<< In barely a year, Portugal has more than quintupled its natural gas imports from Russia. Statistics from the Directorate General of Energy and Geology (DGEG) show that Russian gas only entered the package of gas purchases from abroad in November 2019.
A still low value (2%) compared to imports from Nigeria, the US, Qatar, Algeria or even Spain. In 2020, however, the DGEG data already accounts for an amount that is more than five times higher (from 2 to 10%) >>
(quote from / thanks to Bárbara Silva, 15.02.2022, on the site eco.sapo.pt)
You're hit with stories about oil and gas every day
Impossible to persist in your innocence and pretend nothing is wrong. Plus, you'll notice it when you put that pistola in your car's tank—well, especially right after, at the register, when you do like me, just ramble on until it's full. Going on until it's completely empty is bad for your engine, I heard from the experts. At most, I stop at a nice amount: 36.93 or 44.44.

Many people use the magic button here. Then it stops at a tenner, or a multiple thereof. I did that once, because I didn't have enough money with me, and I basically don't pay with a card.
Then I noticed that just after hitting the amount of five euros, just to be safe, the pump started pumping a little slower, taking an eternity for the remaining five.
With that, they had lost one fan of the magic button.
Of course you were already warned by those huge signs that are at every gas station, but the effect that those numbers have (gasolina 95 216.99 at the moment) only then becomes apparent. At the cash register.

Now I have always been a fan of combining things, in terms of time, but now for sure. In terms of time and money.
If gas then also has to be purchased, that is a complete drain on the monthly budget
If I continue like this, I'll become a whiney old woman (with an apron!): "My gosh, those prices nowadays, I remember well that in the good old days – we got three whole loaves of bread for a cent. One cent! And they were also king-size and double-baked."
Apologies, these aren't things that go by unnoticed. Not on your wallet, at least. And of course not, because all the newspapers are full of it. And then it's not that bad, with inflation. In Portugal.
Portugal is said to be so cheap, but that's only in a few areas
Your groceries cost about the same as in the north of Europe, but admittedly: eating out is a lot less expensive*, a cup of coffee costs a normal amount** and as far as I know, people still don't have to sell their souls to buy a house.
That's where it ends. Petrol and gas simply go with the globalized prices
There's gas needed to make electricity. Okay… There is such a factory not far from here. It's nice to hear that electricity is made, but isn't it a bit cumbersome? Although a telephone or a computer on gas doesn't seem very appealing … I'll stop with this detour. Gas becomes electricity. Fine. Done.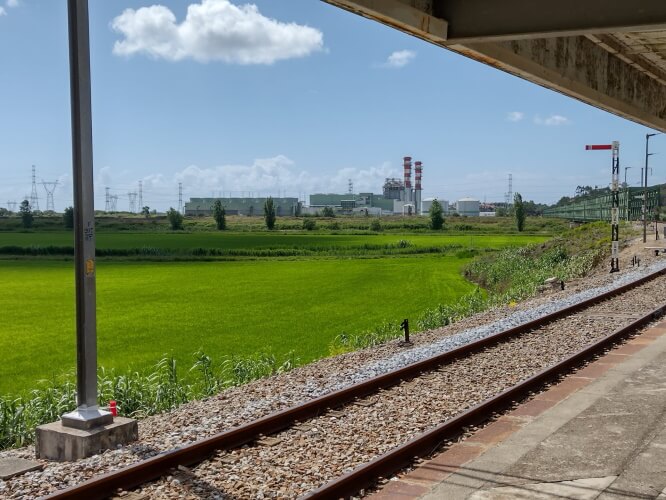 We cook on bottled gas, another type of gas. Such a bottle lasts for about three months, and then you just cook or shove in the oven whatever you want. We also heat on gas, which is a bit different. Then it can go quickly. Fortunately, we don't need to heat much or often, because the normal climate can be called quite mild. We are in a maritime climate here. And we are tough.

That's a great combination, soft climate + tough people = little gas use

I'd almost become a fan of global warming. Even less gas consumption…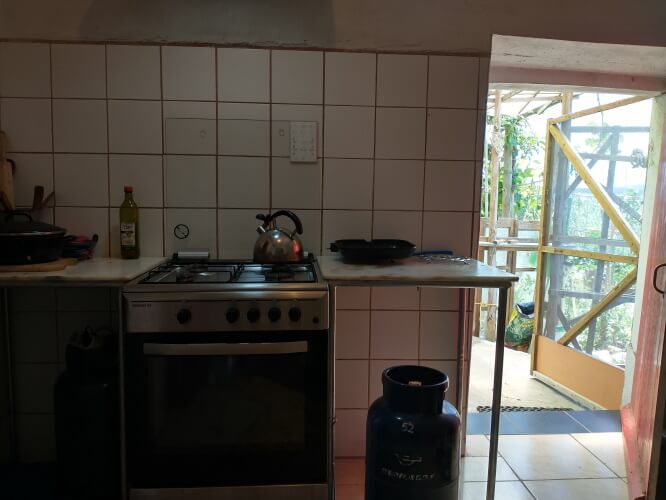 * in an average restaurant you pay around ten euros per person, and for that you get a meal with everything plus wine and coffee
** A cup of coffee in a Portuguese café costs no more than 80 cents, at most one euro. Those are already rip-offs who are taking advantage of the situation.
.
We moved here in 2000 from Rotterdam, Holland to the Termas-da-Azenha, Portugal.
A big step, especially with two small children.
We are busy to rebuild one of portugals cultural heirlooms: Termas-da-Azenha, an old spa which has been turned into several holiday houses, rooms and a campsite.
You'll find mosaics and paintings everywhere.
Since 2018 we call ourselves the first B&B&B in the world – Bed & Breakfast & Bathrobes. You can buy a home-made unique bathrobe/housecoat with us.
Each week a little blog about what is happening around us. An easy read. A few minutes in another world. A little about what it going on in Portugal. If you plan your holiday to Portugal, it might be a nice preparation
You can subscribe to this blog- see at the right side of this page »
You'll get it every weekend in your mailbox.
On Sunday morning we publish it on our Facebook and on Instagram.