In my half-sleep, I hear a car start. I recognize the engine, but I'm still busy trying to prevent a baby from falling. The baby is pregnant, so it certainly may not fall! In addition, I'm at the edge of a very deep swimming pool, so it's all very exciting.
Rental cars all have the same engine noise. New cars hardly have their own typical sound. They haven't developed any character yet, and maybe 'cause they're built by robots they'll never have that. This one has its own character …. just as grumpy as his boss …
And there's the familiar beepbeepbeep
Six o'clock. Rise and shine. Many people are shocked by the time, but I think it's great. In winter it's a bit later, but in the summer it's light around around five, so at six the day has already started. All birds are busy, busy with singin'and flyin', and the people are still comfortable sleepin'.
On holiday everyone is sleeping long
Whatever you want. I get up early because for me that's a luxury. To have time for breakfast, take a break from all that hassle at night (struggling to prevent pregnant babies from falling into a pool is hard work!) and then do all kinds of things quietly without being disturbed by questions, chats, serving breakfast or the heat.
My fellow early-getting-upper is motivated by the heat. Meanwhile, my suspicion has been confirmed; the car of JC has indeed disappeared. JC is busy building his house and mowing his site. He has just bought a motor mower that is currently puffing off the heavy work. Two hectares of neglected land with a demolished house made habitable is not a small task, and JC only has 3 weeks. During that time, it's meant that he'll make the house habitable for his wife, who will come with him for a while.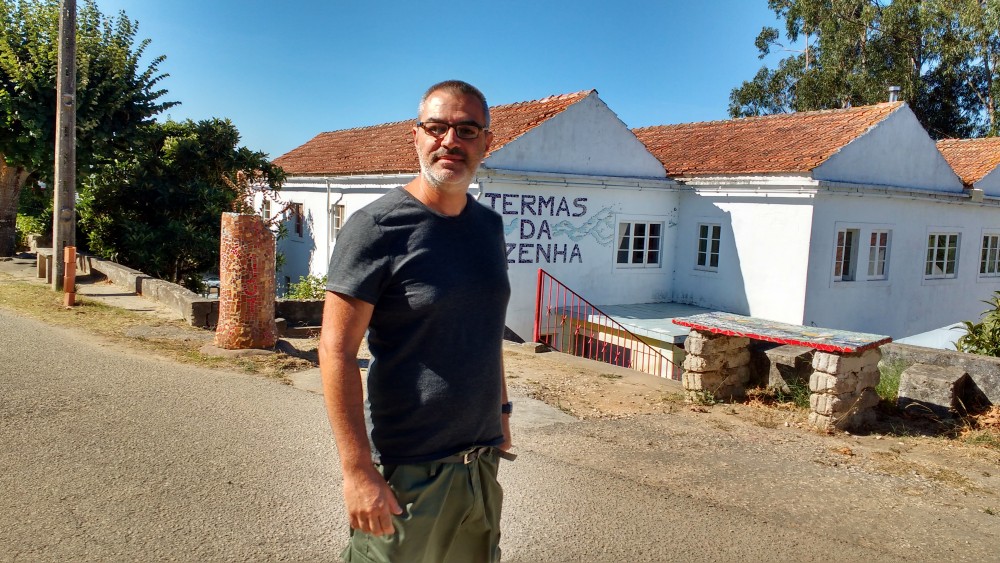 The first time they will travel between Portugal and France
and after that they will definitely settle here. Fortunately, they do not have plans to rent rooms or start a camping, like just about all emigrating compatriots, who apparently do not realize that you can't live from renting out a few rooms or tentpitches. Or that it makes the life of the people who do want to live of it a bit difficult.
But JC is not crazy
He realizes that he can not, and in addition, he isn't suitable for it – in his own words. And his wife is not as well. He's continuing to inspect homes on energy friendliness, and begins to build his business here. He is going to import conveyor belts.
I think that's a good plan
His wife is going to start a large vegetable garden, and he has already planted fruit trees. I think that is very brave, because if you have to leave in a week, who will water the trees? No problem, JC will handle that. The neighbor, who will take care of his pig too, will do that.
What? Have you bought a pig?
Well, he was at a village party, and there was a girl born in French speaking Luxembourg. An "emigrant" who goes around in an expensive car in August with an L on it. There are quite a lot of those. They come to visit their family and their birthplace during the holiday, although there are a lot of people who don't speak Portuguese anymore and don't see Portugal as their country. They come with their father and mother, they come for a cousin's wedding or the christening of a family member's baby, they'll see everybody again, but at the end of August they go back from where they came from.
At the village party, JC came into contact with such a French-speaking Luxembourgian who complained that she had won a piglet in the village lottery. What did she have to do with that?
And, there he wanted to help her out, and bought the animal for a almost nothing. Then he made a nice deal with his neighbor, who has a life time experience in farming. She'll water the trees, and will take care of the piglet.
What JC is going to do with it, I do not know. I suspect he's a little less peace-loving than the better known JC. He had many visions of an incredible amount of huge pigs, and I suspect that deliciously smells of roasted pork.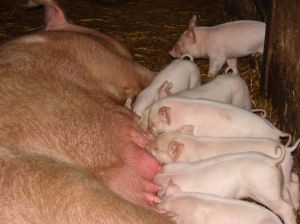 But now he has disappeared
Back to France, for the time being, at least. He'll take quite a long time to come back. I'm pretty sure he will pass by the Termas to say hello. Maybe he'll bring a gift …  a little piglet …
.