Ooooo, why things always happen at the same time? You can be bored for an hour, and suddenly there are the expected guests, someone wants to rent towels anyway, someone else who wants an information, someone comes up with some questions and another one wants to settle the bill and leave. Plus an UNexpected guest.
Then I'm so happy that my youngest son also works here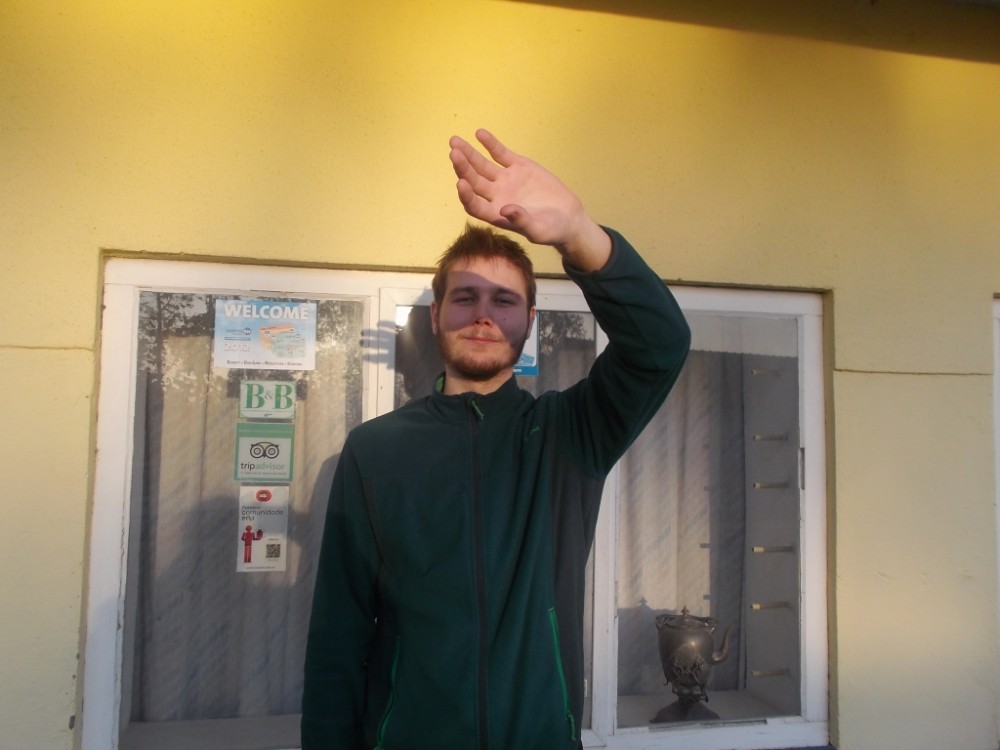 He joined the unexpected camping guest to show the campsites. I always call it a campsite, not a camping – to stress the difference. Calling it a "camping" you may associate it with olympic pools, snack bars, sunbathing meadows and animation teams, but we do not have those things at all.
We have a terrain on the hillside, and an area adjacent to the village square. That's it. Both have their own toilet building. Below is called "ToiLetBuilding" and on the hill you find "The Bunker".
You have to give it a name here, otherwise you'll go mad explaining where to go
The unexpected campers made the choise for the hill. Good choice, if you ask me, but a little bit a challenge for the drive-up. It's quite steep. You have to take a run-up, and never again brake before you're there. Even a little hesitation in your gas can make the difference between easy-to-go or have-to-go-back-and-start-over.
They came with a pretty big, very beautiful yellow van
And we had not had that before. After a while she returned, she and her daughter, a bit stressed, clearly wrinkled by the experience. "I can't move forward, and I don't dare to go back anymore," she said, stuck on the bench before the reception.
"If you trust me with your van, I can do that," I answered, happily free from further commitments, "I can get it down."
Relieved, she handed me the keys
"What a beautiful bus!" I said enthusiastically, "I will be very careful with it. If you stay on the road to stop traffic, I'll come down slowly. "
"Yes, sure," she already laughed again, "all that traffic, surely! But okay, it's true, there could pass a car, indeed … I'll stay there. Besides … I don't want to miss this of course! "
Never drove in such a great color. I started the engine for the certainty, and put it in geer. And then many times on the brake. Slowly but surely we went down.
"Oh fine, thank you, powerlady!" Irma called her daughter next to her, "Now, I guess, we're going to be down there!"
Then they stayed for a day or 10 and it was as if they always had been there
Then, on a beautiful day, she came down with a black and white dog on a rope. "Look at this, what happened to me!" She called to me, "now, isn't this a sweetie?"
I immediately understood what this was about and responded very spontaneously with: "Oh no, please! I do not want another dog! "   But she answered right away: "But I do!" And that was the signal for me to immediately let go of all resistance.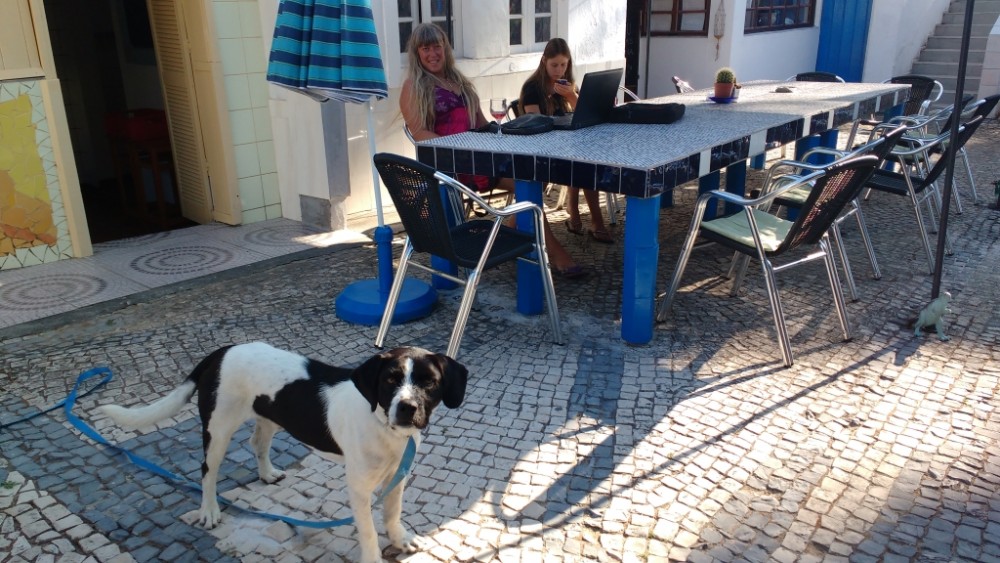 Yes, you can think: gosh, what a hard cold bitch with such a reaction, but in the past 20 years I have picked up /saved from fatal death / taken from the dump / adopted when left behind as foundlings at least on average 1 dog per year and put up for adoption with corresponding effort, so I think I did my part. I'd like to make a little break.
In addition, a stray dog is not a good idea to combine with (sleeping) guests
You can only teach stray dogs with a lot of attention and love. Love – okay …. attention – fine, but there's no time. Just ask my sons. They know everything about that. Love – no point, attention – sure … but time … hm …
Now this dog is going to live in the rich north
If a Portuguese dog could realize, he'd think: "What? Your own sleeping place with a mattress and a blanket? And they bath you? (Brrrr …. but well: no fleas anymore.) They want to cuddle and play with you? Play? Can you play? And you get enough food every day? Yeah …. heaven! "
The only price that this pointer (because it appears to be a purebred) has to pay is a visit to the vet, after which he will go through life as a you-know-what-dog.
On the basis of the latest data, you could say that the title of this blog is completely untrue, but I stick with it: he's a lucky bastard!