We are at the end of the road, dear friend. Your time has come, I believe, because after 4 days you cannot even lift your head to drink. And you're too heavy, I can't lift it up too. I'll miss you.
When I came to get you, a long time ago, you were with a friend in the stable. Your owner, Senhora Imelda, couldn't take care of two donkeys anymore, and she had no more work for you. Her husband was in bed – I talked around the corner of the door of her bedroom and felt very uncomfortable. Two old people in a small room in an oldfashioned iron bed, with their winter coats on because they were so cold, her husband clearly seriously ill.
You are from an old-fashioned Portuguese household
You've been working for a long time, I don't know how old you are. I took you home with your cart, and that was the only time I've ever traveled in a donkey cart. A distance of 10 minutes by car – it took us about one and a half hours. I found it very exciting at first, but you knew exactly what to do. You just walked steadily. I just had to indicate the direction with the reins. A special experience.
So you came into my, very different, household
There was already one old donkey, which was hard to approach, but luckily another one passed by very soon. Yes,it's rare but true: a homeless donkey, who didn't belong to anyone – apparently, because untill this day nobody ever claimed her.
There had been two neighbours passing by already: "O, Dona Helena! O seu burro está na rua na aldeia! Your donkey is on the street in the village!" And twice I went to the stable to check, but no, Esmée and João were there.
The police came by: whether that donkey could stay here because they did not know who she was, and she couldn't stay there tied to that lamp post.
Well, of course. Where there is room for two, there is also room for three.
It became a nice long lasting relationship
Esmée was an old bad-tempered donkey, with a sad history, so Bambi and you soon became good friends. Full of life, you always tried to find somewhere to escape, with Bambi on your heels. It became a kind of sport for you, and although I didn't always think it was funny, I have to think about it now with a melancholic smile.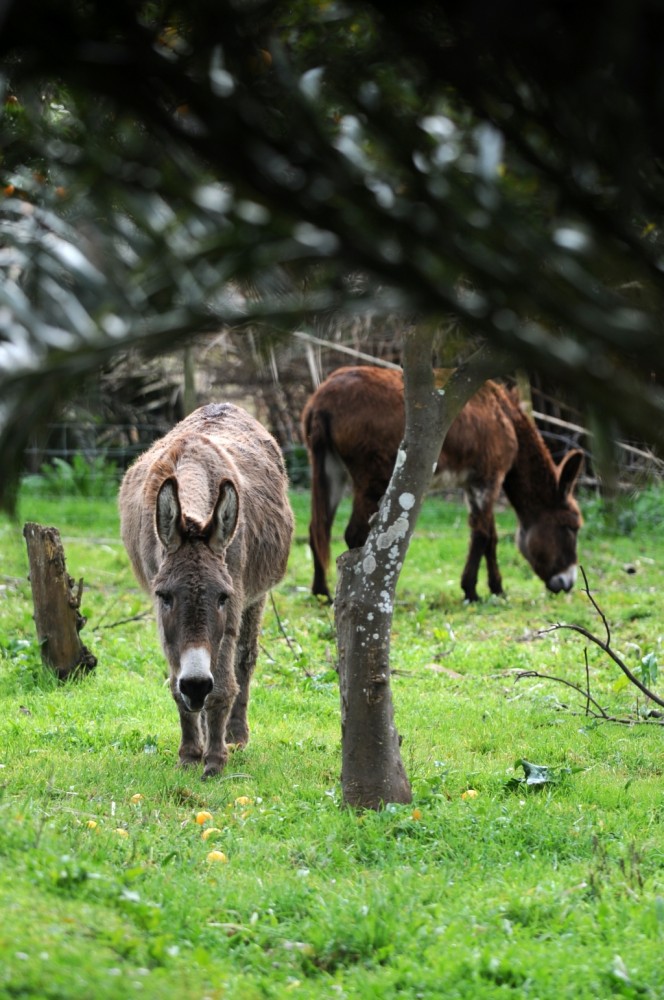 Your most daring escape happened in the wee hours of the night. It was half past midnight when a car stopped and someone shouted:  "O, Dona Helena!Os seus burros estão no meio da rua na aldeia! Your donkeys in the village in the middle of the road!" Oops …. thank you for warning me.
And yes, there you were, on the path to the village garage, standing and waiting …. for what? Looking like: …. well, we succeeded, and what are we going to do now?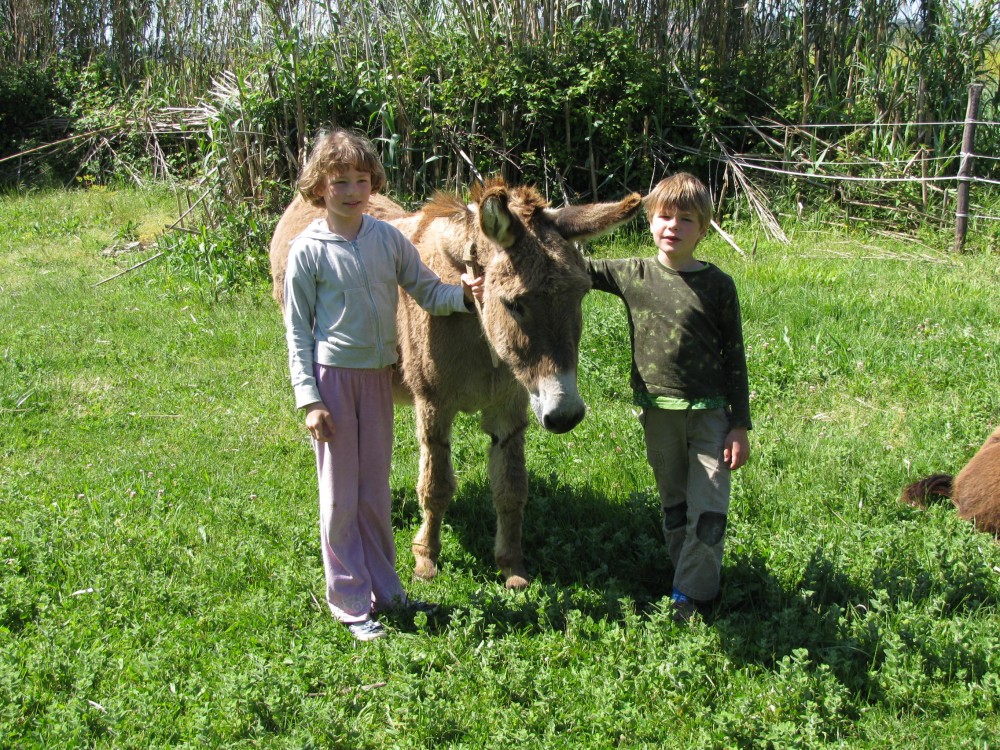 There have been a lot of guests who caressed you, played with you, fed you fruit. My sons and their friends have tried to ride on you, but that was not such a huge success. Or you just stood there, with a boy on your back – no way they would get you to walk, or you galloped away, so they sat there, bouncing and screaming.
It's good, dear friend. Now you don't suffer anymore. I hope you'll be in donkey heaven, because you deserve it. Thank you for being with us – I learned a lot from you and loved you a lot. Goodbye João, dear donkey.
We spent a lot of good years with all our donkeys (all in all there were 6), and with all of them you have a different relationship. Animals have their own personality and character. You can have your preferences. This one was unmatched. Like João, there was no other.