"Yes, that one is still the best", Astrid concludes and points to the earlier train. We have talked about it extensively and counted back: 2 0'clock flying, arrive an hour before departure (it's January, not crowded, no endless queues at customs – right?), 1 hour by subway …
She's here for a week, but now she has to go back suddenly and unexpectedly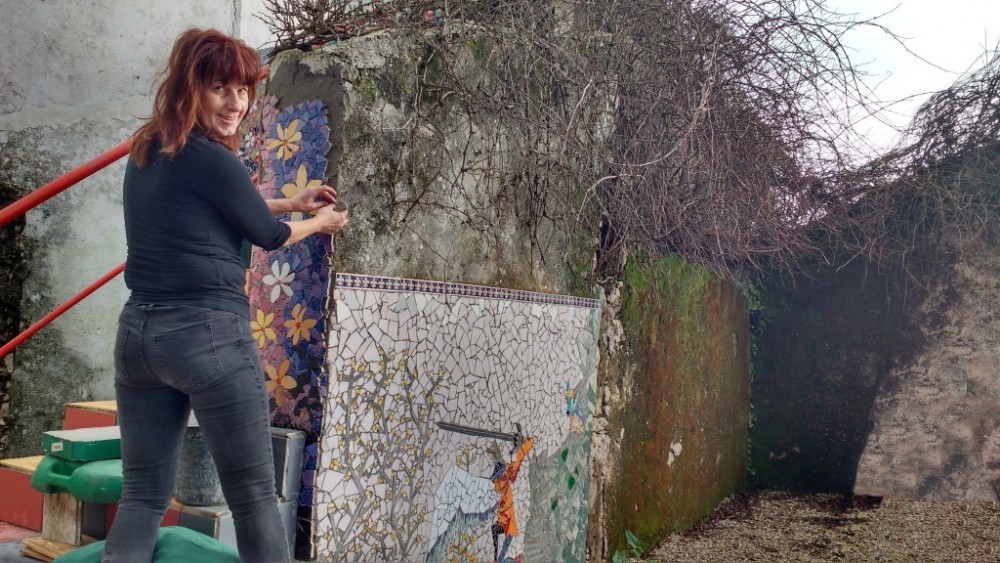 The father of the children has died, just suddenly, and so suddenly a lot of things must be taken care of. "The girls" can't just be told with a phone call.
Even though they are pretty much grown-up, they still live with their mother, but yes, their mother is here now. It is their father and her ex – 16 years ago they split up, and after that they didn't have so much contact anymore. About the children, and about his contribution for them.
I'm amazed by the way this communication goes
That's different, if you're a girl's mother, you'll notice. There is plenty of messaging going on, especially after "the girls" have been rashly informed by trusted friends. There is also a lot of going back and forth messaging with these friends going on.
I am a boy's mother, with an introverted youngest. That's different! Now we – thankgod – have not yet experienced that their father / my ex suddenly died, but otherwise the communication is very different. Very brief. And how you feel about something is never asked.
The travel insurance does not cover the return journey
What else do you have insurance for? To have the illusion that they will assist you in bad times when everything is running smoothly? Anyway, we are familiar with that grumbling, and it is pushed aside. Too bad, but there are more important things in the world. Most importantly, Astrid have to return to assist her girls in processing their grief.
After 16 years no longer together, but need to arrange practical matters because of the children, you are no longer sobbing in your pillow. It is a shock, an unexpected death, certainly – but for Astrid it is also a pity that she has to interrupt her week of refueling.
Astrid has been coming here for years – first with the girls, then without
One of the regular guests. Long, long ago she came as a volunteer for a week. She liked it so much that she came on holiday with the girls, and since then every summer. A pleasant destination for a single parent family, that certainly is a basis for a relaxing holiday.
The girls enjoyed themselves in the pool and the FancyDressingRoom, and with the other children. The funny thing is, that I have seen them grow up a bit too. And Astrid and I started to work together on some mosaics, and that has actually become tradition.
Before she comes, I often send an inspiring picture: "What do you think of this?" I ask, "for that corner above the cafe?"
"Do you have enough red?" She sends back, "and where exactly will it be?"
She's left behind several masterpieces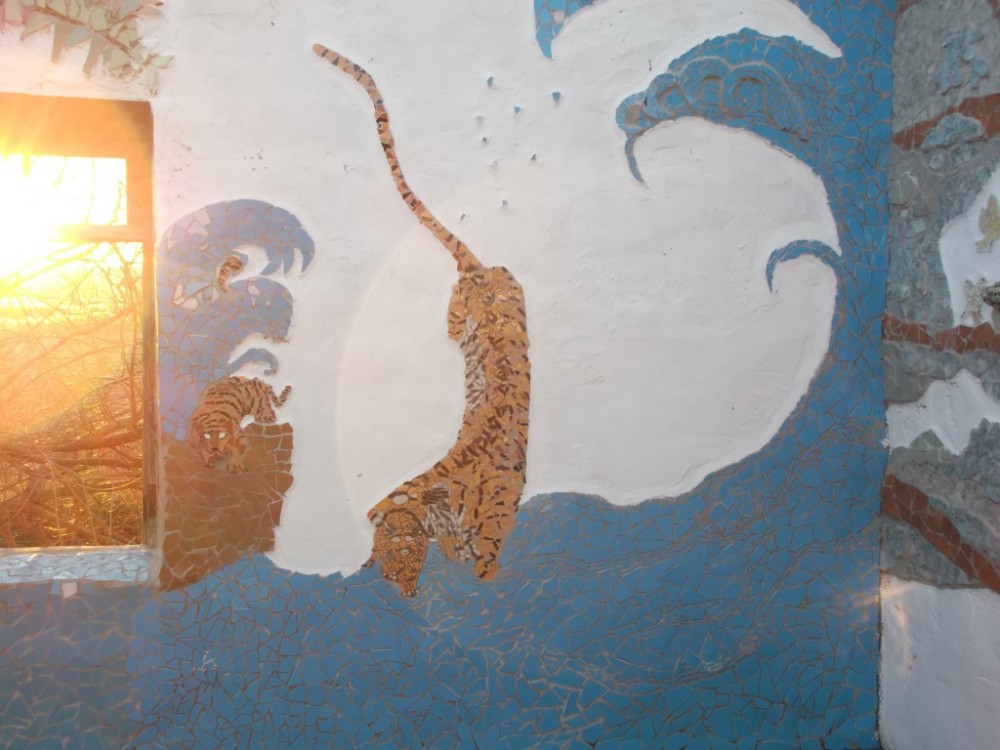 This time I wanted to keep it modest. In a week you can not make huge mosaics, and then I'll have to go on with it alone – an unfinished work, which still needs a lot cutting and glueing. This can possibly be done by enthusiastic volunteers, but you do not always have them at hand.
I don't have time now. I want to make a mini golf, and a webshop for the bathrobes, and a lot of windows need to be sanded and painted, and a couple of bath cubicles need to be turned into a museum, including 3-D mosaic. Plans and ideas enough, but 2018 seems to be the similar to 2017.
If you do not pay attention, the day passed by like that
We say goodbye to Astrid. I'll finish the mosaic. No problem, it'll be done in no time. Strength with all this, and we keep in touch. Long live whatsapp!