L.S.

After church service this morning, part of a chant ("where angels are rulers") popped into my mind and I wanted to figure out the whole chant.
For this I searched in the old hymnal of my sister Arta and also came across a map of a certain Willeke, also on behalf of Sebe, Welmoed and Micha.
I wondered what became of those unknowns after those nine years and – perhaps a bit grouchy – I punched the names into the search engine.
And – oh, wonder?! – there I came across a blog with an email address in far away Portugal.

So now I wonder: who are they and what are they doing there…………

Whatever.
—
Kind regards,

A.G. (brother of)
I'm quite surprised by this. We can call this a mysterious mail, right?
Also, I'm left with a lot of questions. After church? I know few people who go to church. Where angels are rulers? People you want to find out about but you don't know them? Why don't you ask your sister Arta? Does sister Arta happen to be a celebrity (which I don't know of course) because you sign with (brother of)? How on earth is it possible that you type those random first names and end up on a blog with an email address in Portugal? Which blog?
You sometimes get mails that you think: Beg pardon? What do you mean?
They're usually about people who are incredibly worried that they've got an inheritance to manage, and want to share it with you because – and then there comes an inimitable reason, or people who have a horrible disease and now transfer all their property to you if you kindly want to give your account number.

If you want to pass all your details, they can deposit 16 million into your account.
We've all had such a "mysterious mail". This one was completely new to me
The miracle has repeated itself. I also typed in: "Willeke, Webe, Welmoed and Micha".

Second hit.

With a snippet: "… with you, what a wonderful place to be. Best of luck and maybe see you next time! Love "

Wonderful, indeed. Maybe the angels are the rulers of the world, you'd almost start to believe it.

That next time is yet to come; who knows. It's only been nine years, and we all lost the two C-risis years. I was still mopey-ing about it (I like to mope) when I walked to the Fairytale Terrace to enjoy an improv music session as an invitee.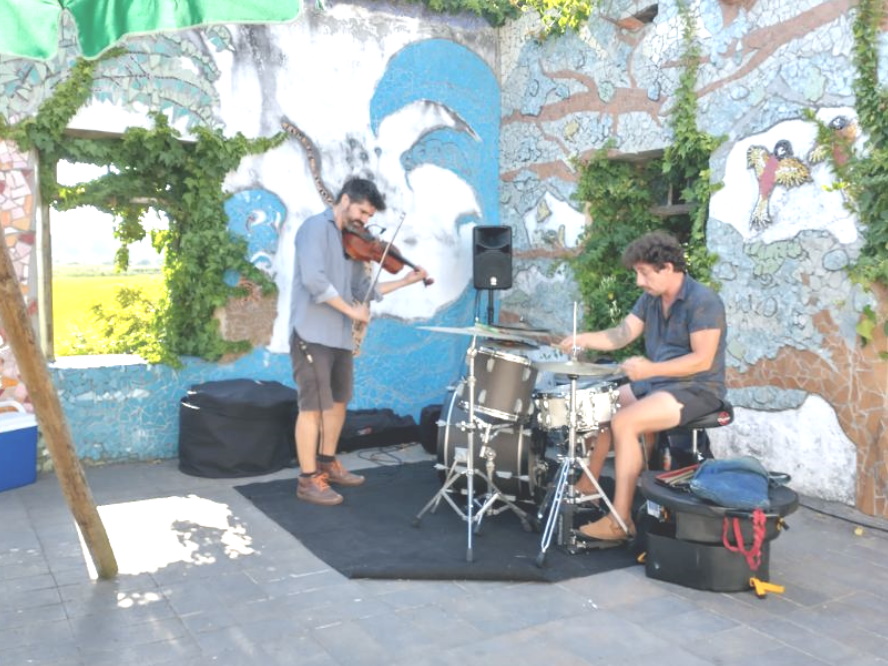 Now music is a jealous muse, who doesn't like you doing anything but enjoying its presence
Luckily, the Fairytale Terrace is a mystical place where you can easily imagine yourself in another world. Especially when accompanied by a virtuoso drummer and an excellent violinist. You won't easily catch me on superlatives in jazz, but a good drummer is a good drummer, and there aren't very many of them.

Most can do bonk-bang-cliiingng nicely. The vast majority can keep up the rhythm well (thank God) but there only are few who can play subtly. Fernando can. In practical terms, that was very nice, because the Fairytale Terrace is not very big, although it has no roof, but you're still on top of the performance. Then it's nice if there's not an Animal behind the drums …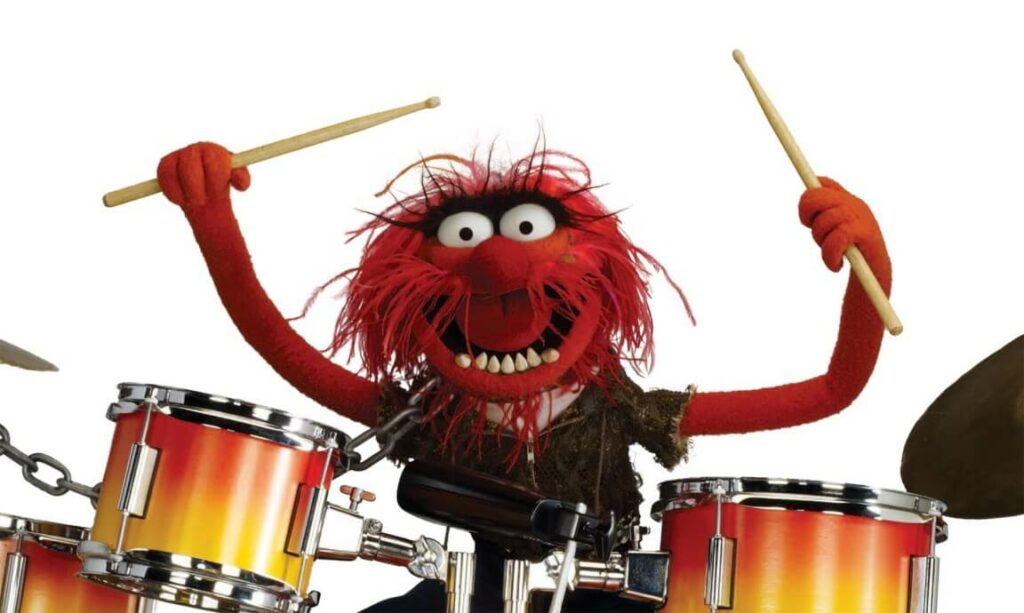 I thought it was majestic music, and again proof that Portugal has an unparalleled musical tradition
If Portuguese are good at anything, it's prose, poetry and music, especially the latter. Example: everybody can sing along their favorite songs word for word, from beginning till end. Very special. Lots of people play instruments.
Just listen. In this video so you can watch as well how beautiful Portugal is.
Portugal is a well-kept secret. I hope we can keep it that way, but at the same time I also want to show off a little bit of Portugal's beauty.

Let's agree that if you come here it's just because you want to cherish all the treasures. Treasures you can't touch, such as beautiful music, tranquil landscapes, a special atmosphere in old buildings, the smile of cheerful people (although you can hold people if you'd like).

A traditional greeting here is: olá bom diiiaa, bem-disposto? Hello good morning, you're in a good mood?

That says it all.
.
We moved here in 2000 from Rotterdam, Holland to the Termas-da-Azenha, Portugal.
A big step, especially with two small children.
We are busy to rebuild one of portugals cultural heirlooms: Termas-da-Azenha, an old spa which has been turned into several holiday houses, rooms and a campsite.
You'll find mosaics and paintings everywhere.
Since 2018 we call ourselves the first B&B&B in the world – Bed & Breakfast & Bathrobes. You can buy a home-made unique bathrobe/housecoat with us.
Each week a little blog about what is happening around us. An easy read. A few minutes in another world. A little about what it going on in Portugal. If you plan your holiday to Portugal, it might be a nice preparation
You can subscribe to this blog- see at the right side of this page »
You'll get it every weekend in your mailbox.
On Sunday morning we publish it on our Facebook and on Instagram.