A peaceful Friday, early evening, just after dinner. The boys are like five little sweethearts gaming at the big table: "Look out! He's behind you! Foda-se! kill him! kill him! … Ah, now I'm dead …!"

I'm at my post on the other side of the curtain because on Friday nights there are always guests arriving.

Sure enough, there's one right there, the door opens, but it's not someone who has booked, it's someone with a message. As soon as he's inside, he starts talking, and in no time realizes that the boys are behind the curtain. He steps over to them: "Olá rapazes, foi engraçado esta tarde, pois não? It was fun this afternoon, wasn't it?" Ah, yes, they recognize him, he was at their school that afternoon to give a guest lecture.
They call him the Solar King, because it was about cooking on solar energy
It's Friday night, they're free, they're gaming. Not interested now, thank you. But I, on the other hand, am! The Solar King is called Celestino, and explains me from start to finish how to build a solar oven out of a cardboard box and some mirror foil. He is enthusiastic, passionate, driven to the point of being obsessive.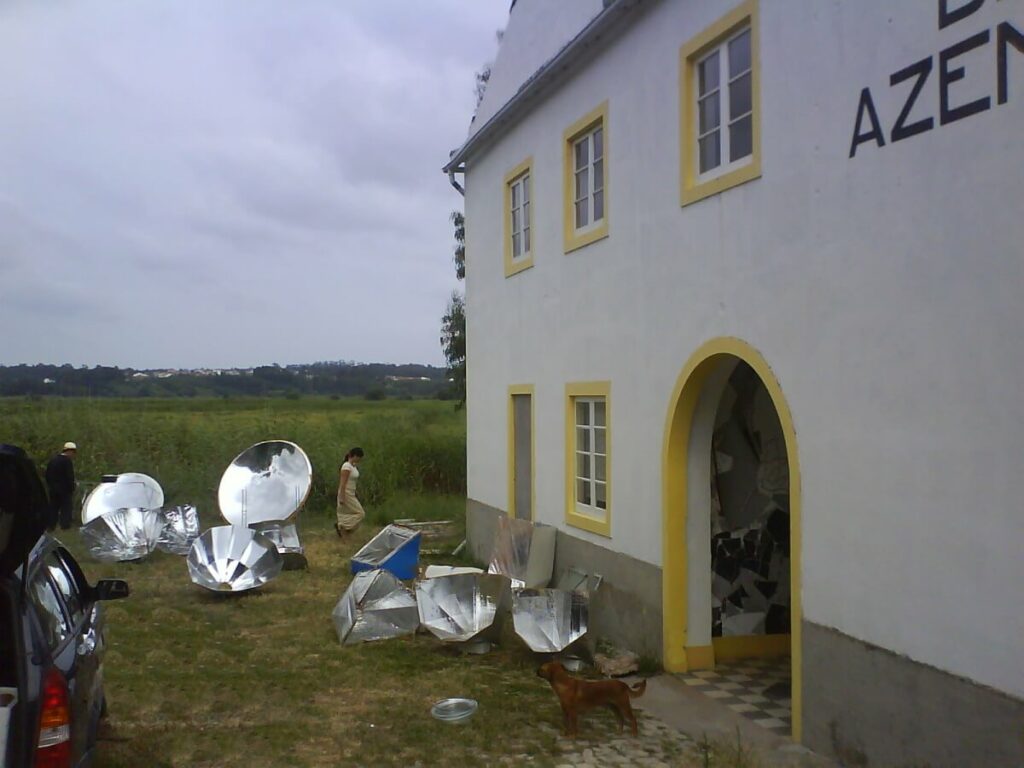 We quickly agree: Solar King Celestino can organize a solar cooking workshop here
The first of these workshops dates from about 14 years ago. First came the car with boxes full of transparent glass dishes, glass doors from broken washing machines to put over them, black pans, cardboard boxes, rolls of mirror foil, and food. A lot of food. Raw food.

Celestino routinely started seasoning the pork chops, and mixing the batter for the cake, to be able to let us taste later that although it takes a little longer, it certainly works!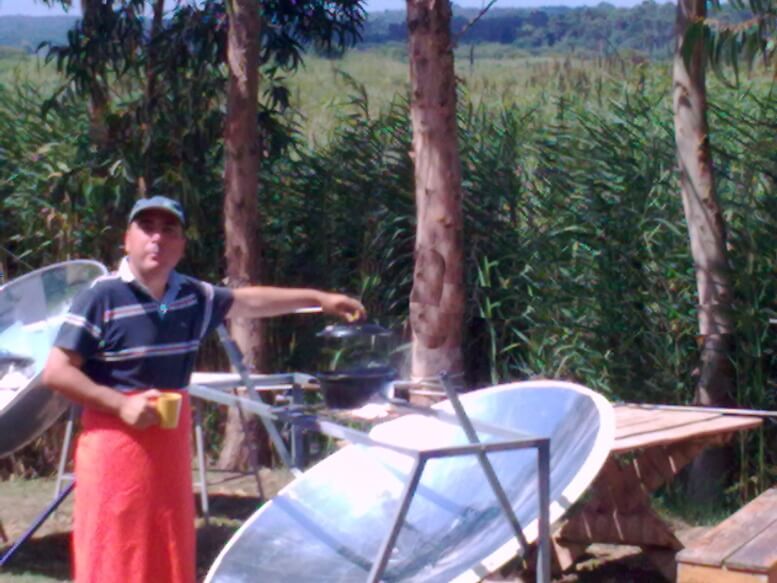 After that first time, I am convinced of that. It certainly works. I thought it was a great concept. After that first time, many more followed. I only had a few drawbacks to put it into practice right here.

First, there were huge eucalyptus trees behind the kitchen.
Then you have to cook a little further away, because you can't do solar cooking in the shadow (duh), and you keep walking back and forth to see if it is already boiling. There were almost always people for dinner, especially in the summer, so you have to cook nice amounts of food, and no time to slow cook a bit.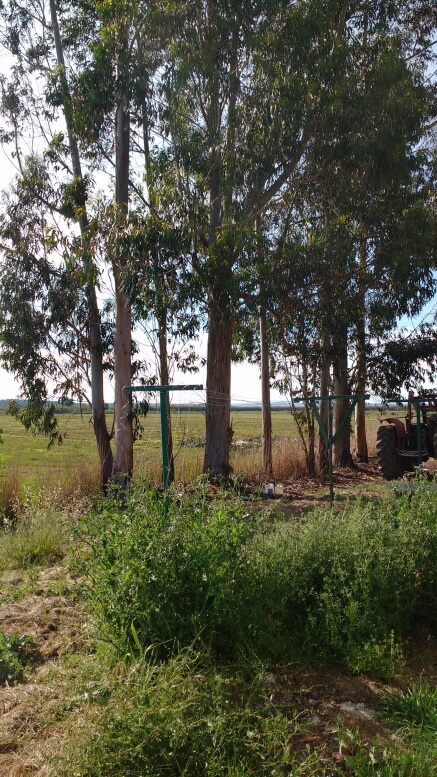 I was loaned a beauty of a sun disc. A huge, movable, mirror disc with a rack in front. Place a pan on the rack, point the disc toward the sun, and the focus will bring the water to a boil within a few minutes. You could even fry an egg with this thing!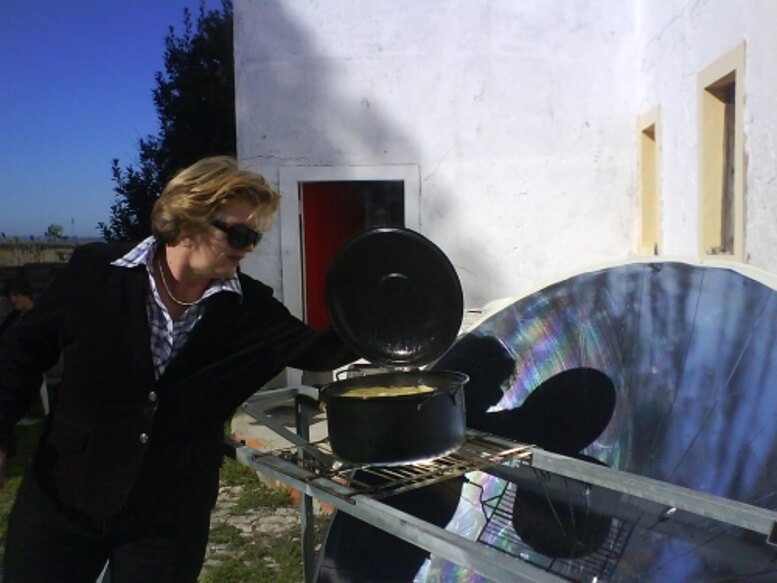 Now things are a lot more relaxed, so now I remembered the Solar King again
In addition, a number of eucalyptuses were felled by the hurricane, and the rest were knocked down by ourselves, so there is plenty of sun behind the kitchen.

I've unfortunately lost the pattern of Celestino's prism, and apparently he no longer works at the University of Faro. I could also make a choice on AliExpress because there are a lot of models for sale these days.
The nice thing is of course to do it yourself, especially because I unexpectedly came across a roll of thick foil, and a particularly suitable box. Another project is to make a solar oven from a gas stove that has long since broken but the bottom of it is left. And the glass lid.

We also have a pot of black paint, a few handy red wheels – and now the challenge is to create a semicircular shape with chicken wire, textile and resina. A slow process progressing baby step by baby step.
Not only slow cooking, but also slow creating!
.
We moved here in 2000 from Rotterdam, Holland to the Termas-da-Azenha, Portugal.
A big step, especially with two small children.
We are busy to rebuild one of portugals cultural heirlooms: Termas-da-Azenha, an old spa which has been turned into several holiday houses, rooms and a campsite.
You'll find mosaics and paintings everywhere.
Since 2018 we call ourselves the first B&B&B in the world – Bed & Breakfast & Bathrobes. You can buy a home-made unique bathrobe/housecoat with us.
Each week a little blog about what is happening around us. An easy read. A few minutes in another world. A little about what it going on in Portugal. If you plan your holiday to Portugal, it might be a nice preparation
You can subscribe to this blog- see at the right side of this page »
You'll get it every weekend in your mailbox.
On Sunday morning we publish it on our Facebook and on Instagram.