"It smelled delicious at your place last night – wonderful smells on the breeze." I'm kidding, "and then I didn't dare to pass by with a glass of wine. That would have been too obvious."
"Aaah! Really? "Ramona looks at me perplexed, "ogosh, that's too bad! I cooked way too much, and I thought: Ellen could easily eat with me. But I thought it was silly to ask! "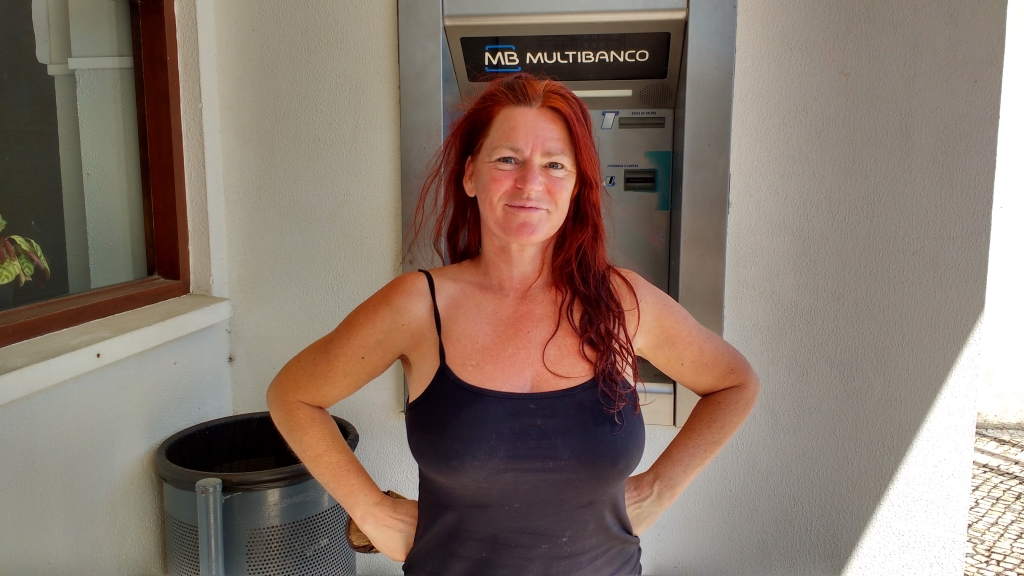 We're at the Multibanco in the next village because Ramona never has cash with her. She needed some, and I was going to do some shopping anyway at this super supermarket here.
Like this it's not necessary to go with that huge motorhome.
It's off season. It is still quiet
And that's exactly what she wants. Birds singing, a tractor far away in the fields …. enough noise. She has been at the beach recently:
"I have something like: can you put that sound off? after a couple of days. Then I really had enough."
Travelling with your motorhome to the wide horizons and do what your heart tells you. Who wouldn't want that? Yet there are not many who actually do it. It's not always easy, especially if you've just met someone back home. But if your heart continues to yearn, well, who are you to fight that? So, on your way to Portugal!
The Boat & Breakfast was doing well
but there were just too many downsides. People from all over the world came to that beautiful spot, but the boat was her own house also. If there was a booking, she had to remove her belongings, and went improvising in an old motorhome nearby. Now that's not so bad, especially if it yields nice guests and ditto merits, but eventually it's enough.
"It was just an ad on Airbnb: "Boat & Breakfast", and it went very well. I got everything fixed up and bought most things secondhand, and I put that whole story on Airbnb. People thought that was sympathetic. I've had really nice guests."
Ramona is a little wistfully at the memory, "It was a beautiful place with a great view, but it was too much."
And people were increasingly booking last-minute
"They were at the airport, I got a call that they would be there in a few hours. I had to pack up everything again, and start cleaning lickedy split. Mwah … less you know! "
"Yes, I know," I say, "at least, that last minute. That is indeed increasing. Very annoying, because you have to drop everything and you have to run in overdrive as it should be done now now now. I always try to ensure that a number of houses are ready, but you couldn't do that, of course. "
"No, I didn't feel like improvising all the time in that old campervan because of the possibility to get a booking." she says, "so well, when I had the idea of going to Portugal. I sold the boat and bought the motorhome, and here I am! "
"Any idea what you're going to do?" I ask, a little afraid that she'll answer: start a B B, because I have the feeling that the market is saturated. Quite some start-ups in recent years, in this region certainly a dozen alone. Now Turkey has fallen as a holiday destination, and Portugal seems to be having the best year since ever – but there is a limit.
Luckily no, not a fixed place yet
Maybe a place in a community, such as "Vegan Hill" in the Algarve. You also have something like that in the Serra da Estrela, but hey, it's very cold there in the winter. It's a ski area. You wouldn't expect that in Portugal, but yes: the first year I was driving around here, I was sitting on a sleigh in the snow in the middle of February. Much to my own surprise!
We have to say goodbye. It's time to move on again
"I have a wonderful time here, nice and quiet, it is such a good place," Ramona says and gives me a big hug, "and I was thinking if I would take the little dog because it's a real sweetheart. But anyway … no. "
"So sorry," I say, but actually I'm a little relieved. Although I didn't want the dog, when she landed a few weeks ago – out of the blue, I've become quite fond of her. It is indeed a sweetheart, so she stays here.
There should remain a few permanent residents here after all!