Next week there'll be a volunteer arriving. He has been here before with his girlfriend.
Last November. Then he made a beautiful mural in Casa Pomarinho.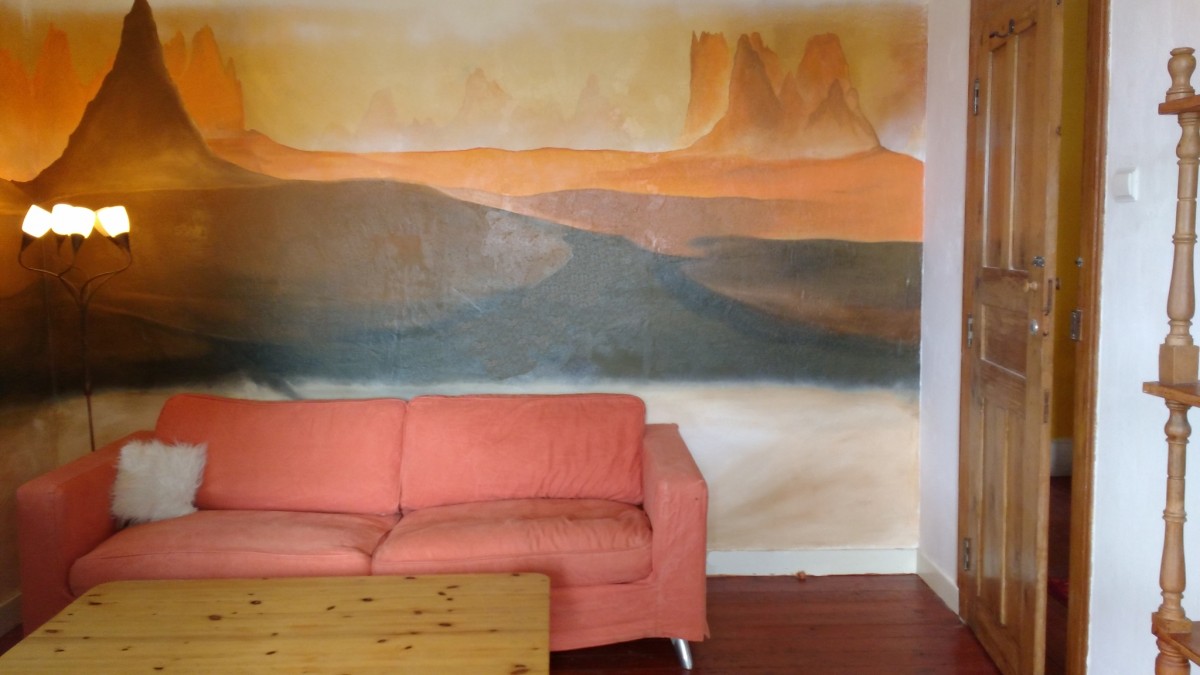 He had a good time, so now he's be back for a week or three. Nice to be here in spring, Nice to work in the garden. This time his adult son comes along. A nice way to be together for a while.
The new painting project already fell at of the sky. A niche in the wall next to the entrance of hotel room 2 will have a guardian angel. We'll keep you posted. Look at our Facebookpage the coming weeks!
If the son looks like his father …
Bruno has a very good name for cycling around in Portugal. He likes to ride his bike and regularly goes out on his own. His son can repair bicycles, so – even though I do not know him yet – I assume that they will go out together. There are 4 bikes ready to use.
But Coco better not mention his name to a talkative Portuguese in a cafe, because that portuguese will not understand that anyone can be called "coconut" or "poop". That what coco means in Portuguese.
If it's one or the other depends on how you pronounce it.
We have also had a Connie here, she learned it the hard way. Everybody frowned when she introduced herself, because it means "cunt" in portuguese. Quite awkward … and her full name was Cornelia, which she hated, but which is a totally normal name here.
Lots of people wondering
I myself had quite a difficult time with the difference in pronunciation between some Portuguese words. I still don't know the difference between avó and avô – grandpa and grandmother. Now that's not a problem, because I rarely use that. Only to inform about the health of the grandmother of my foster son João Pedro – and than hope I picked the right one.
The challenge of coco or cocô was much bigger, because I love coconut and in all the pastelarias they have delicious bolos with coco.
One you pronounce like cocu, the other as cocò
I just could not remember.
How often I'd order a poop sandwich, I don't know, but the women behind the counter always stayed polite.
Difficult language, Portuguese. I think that's a very beautiful language, so that motivates wanting to learn. It will never be the same level as my mother tongue though. I have to improvise some time and talk around things a bit. And in the case of my coconut bolo I nailed it.
I just always ask for my "favorite" – and then I point.
No poo sandwiches anymore