It doesn't often happen that I think on Friday: "Oh dear, the blog, what should the blog be about?" – but that is the case this week. Usually the subject presents itself. Matter of writing it down. This time I couldn't figure it out. Everything blank.
Maybe it's because there are a lot of things happening at the same time this week.
Just back from the Netherlands for a four-day visit to my oldest son, and to the rest of the family, I could immediately start cleaning and mowing. We're preparing for the upcoming Tai Chi week. A group from Delft who will train in various formations inside, outside, on the campsite and in Choupal (Coimbra – more on that later).
Beautiful plan, but especially the field behind the pool is full of chicory
Chicory grows spontaneously here. Wherever you want it, and also where you don't want it. We always keep the grass on the campsite at an acceptable level, so they have no chance there. But nobody actually comes on the field behind the pool, so I leave them there.
Why? Chicory flowers have a very beautiful color, and butterflies love it
Furthermore, it is an annoying nasty plant. They cannot be eradicated, and you break your legs over their stems, because they often grow low over the ground. When the donkeys were alive, they also ate around it. No way they would eat that!
Of course they have the reputation that you can make coffee from chicory, but I'm convinced that this must be a horrible drink. You only drink it if there's no alternative.
But the color blue … it's beautiful. You can only find such beautiful colors in nature. Of course I have already mowed everything, and only then got the idea to write a blog about it, but here you have an impression: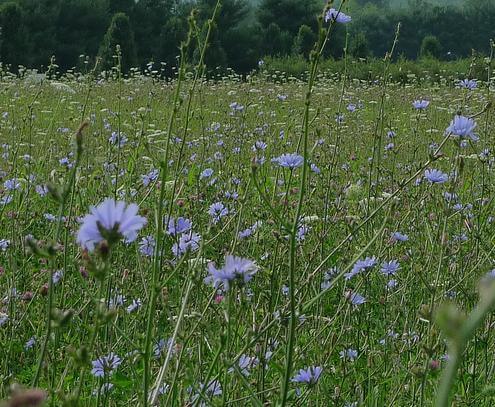 I thought it would be a good idea to mow everything completely to ground level, because I certainly do not know everything about Tai Chi, but I think I remembered seeing trainees slide their feet over the ground with slow movements, so I already saw it happening … a smothered cry, and there someone goes – flat on their face … no good for your health and/or concentration!
In that respect, they 'll be well off in Choupal
There you find huge old trees, ditto bushes (okay, not that old) and nicely raked squares of very fine and light gravel. The botanical garden of Coimbra is always on the to-do list of every tourist, but I like Choupal much better.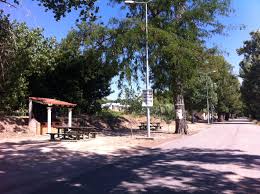 It is right next to the river (the Mondego) where your children can play with all the big rocks, and make a dam. Just sayin'. It's nice and quiet. There are not many tourists, only portuguese people. There are picnic benches – and if you bring your own wifi, you could have a lovely work space there too.
Pronto. I'm done advertising for Choupal!
Moving on! On with the shopping, making menus, cleaning rooms, arranging the big room, putting drinks in the fridge. Tomorrow morning we'll sweep the terraces (always a last-minute job) and then we're completely ready for it.
Welcome to Tai Chi your heart out!