"That was quite something, packing everything" says Marian, taking of her glasses, "I'm still tired from it all. We first have to get some rest." She rubs her eyes. "We have to make decisions about everything. Do you know how hard that is? I thought it was easy to be retired!"
Yes, I can imagine that it's not easy. Usually we have so many things. And to many of those we have emotional attachements. "It seems nearly impossible", I reply, "I don't even want to think about having to empty the entire village …" We both laugh: "You can't! Thát is impossible!"
The other side of being retired
You can have nice dreams, good plans, but one day you have to face the consequences. Then you have to empty your house, since you sold it, and you don't have a new house to put all your stuff.
That means you have to decide whether or not you store that colorful little statue you bought in Italy on your first-shared-holiday or are you have to throw it out. If your mother's old jewelry is going to be packed. Or if your grandparents bible, on which they swore their wedding vows, is going to auction. Are you going to throw out your favourite shoes? And your ivory letter opener? And that keyboard that still works?
Some people buy a camper
In which you can take your favourite shoes, but taking that colorful statue is madness. This may save you in several decisions, but so not many.
This is the what you have to struggle through before retirement, if you decided to live in another country. But then …. imagine! Being able to do whatever you want … always! Not just a few weeks, no, for the rest of your life. We normal people can only dream of that….
Now you have to be ready for it, retirement
When I try to imagine what it would be like, I think I would be bored regularly. It can also be nice to have to do something, and well, the worst is has passed.
The worst was all the running and the flying with small children. Always being in a hurry, always being late because that's what happens when you have small children. Who don't comprehend time. They have plenty of of it.
For their parents it's the exact opposite. They never have time. Moreover, they are usually in the most ambitious phase of their lives, in their thirties. We are hard workers, we go on day in day out.
Tired of being retired
But if you are retired, you can give in. "I'm going to sleep so early," says Anton, "I'm so tired of driving, and tomorrow we'll go again. Again a long day." Anton and Dora came along unexpectedly this afternoon, in their camper. Sold the house, bought a mobile home.
We had a chat and a drink on the terrace. How it's like to be retired-with-a-camper. "Still, I would like to have a home again," he says, "but the bureaucracy is definitely serious here?"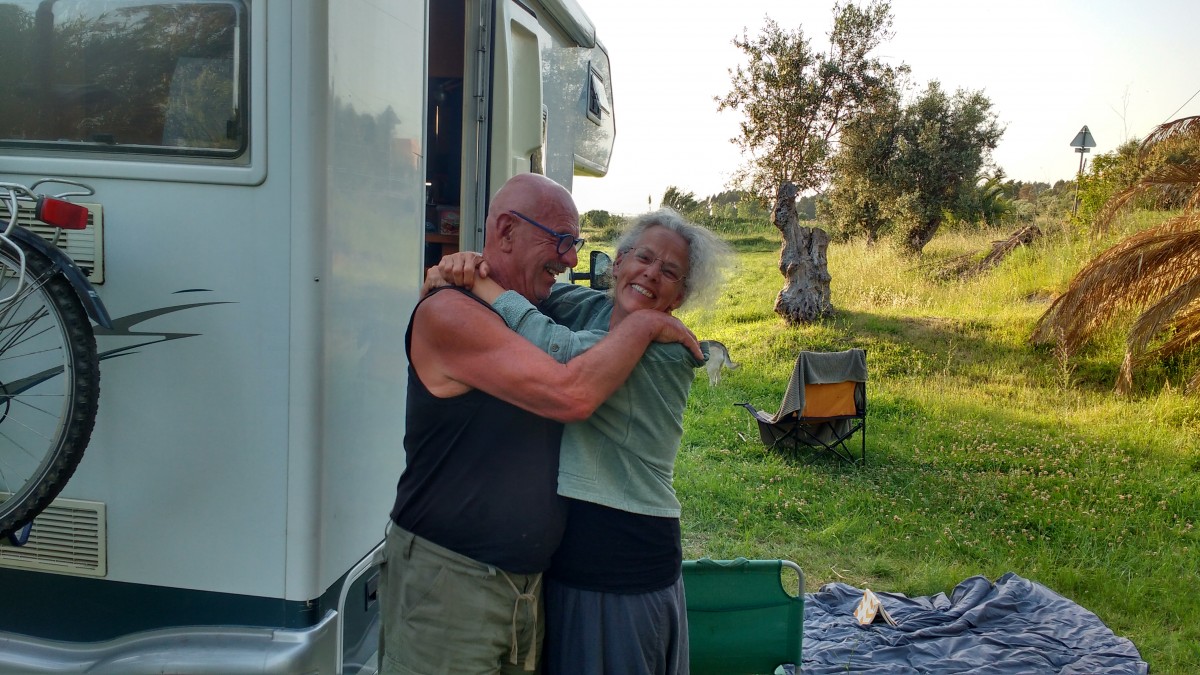 Well, I can not deny that. When you buy a house, you will come across everything and something, and you need to know exactly what it's all about. And, another consideration: "I'm afraid I can not do much later on, and then I need medical help … I do not speak the language … how would that go?"
Real worries. I've seen it more often
People buy a house with their sixty-something, and after a year or ten it's going wrong. I have been sitting at a hospital more often to explain the physical situation to a Portuguese doctor. And it can really be a drama. I could tell your stories of a woman who sat alone in her home for years because her husband had passed away and she could not leave, because nobody bought the house. It was a beautiful house, but far too expensive. Not something that you sell easily.
"You can rent something here for a few years",
I suggest enthousiastic, "you'll always have someone nearby, someone who can translate, someone who can help you with this or that, and you can just leave. If you want to go back home for a visit to your children, family or friends, then someone will take care of your house! And: you don't have to sell it again!"
"Hey, that's not such a bad idea …" Anton's taking that in, "say, live a year or 10 here without worries, and then you'll be back again without problems. Yes, I'll sleep on that! Maybe that's not a bad idea at all! "
We say goodbye. Isn't it nice, if a girlfriend's sister sends her sister's friend-with-new-loved one to you? You never know what will happen next.