Statistically we've had a lot of (multi-)talented volunteers and guests.
They're probably attracted by all the eye-candy that has been created over the years.
The first time Bruno came, it was an exciting event, since I already had a group of four young girls around. They came from all over, Germany, Canada, France and Hungary. Bruno came with his childhood sweetheart Tooske, and in his first elaborate email he wrote about how surprised he was that he recently became 65.
From all over the world in perfect harmony
We started the Termas-da-Azenha, believing it could be a place to bring together people who would probably never meet otherwise. And that has certainly happened, over the years several unexpected combinations of people got along famously.
Just like last autumn. It really improves the atmosphere if people get along.  In case of volunteers it also gets things done better and faster.
So I thought it was great that Bruno came back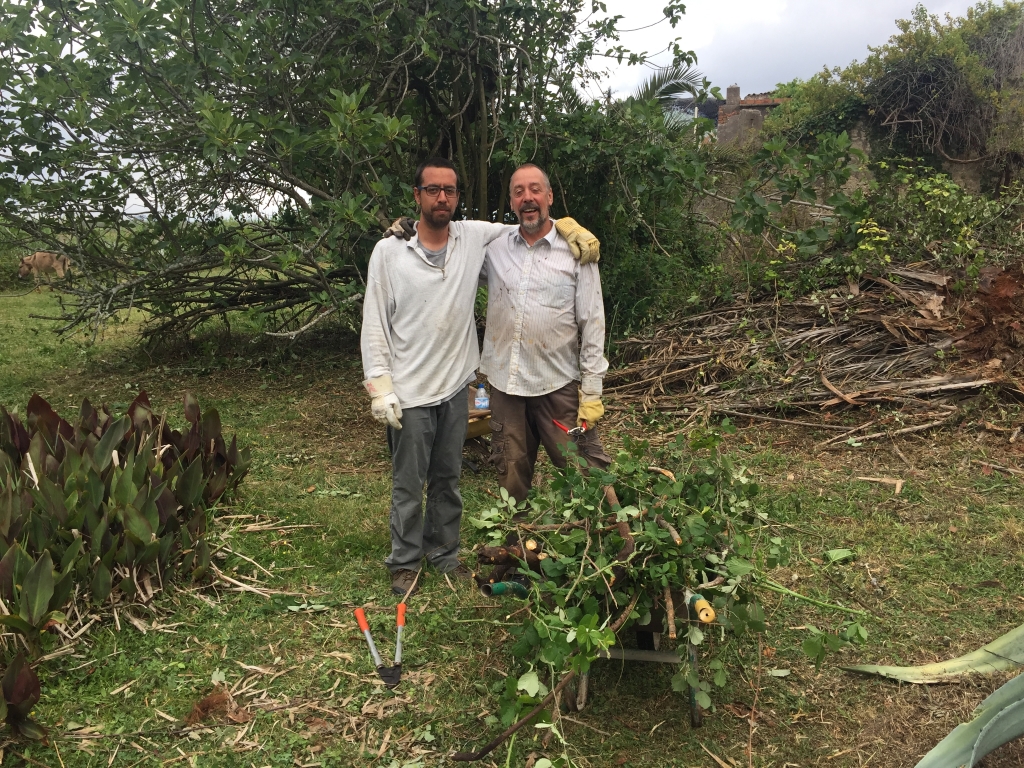 This time he came with his son. You know his son already, dear readers, it's Coco from the "portuguese poo sandwich" blog, from a few weeks ago.
"I hope he'll like it here" Bruno says when he arrives, "I expect he will, otherwise I would never have asked. But we'll have to wait and see … father and son together for two weeks … it's been a while!" Coco is 30, so he's been independent for quite some time.
I had reserved a house for them. Since it's quiet at the moment and we have 8 houses, so usually it's only full in high season.
A few days later my family arrived, 5 of them, sisters, a brother and a brother-in-law. I'm used to the bustle of having a large family. However, most people don't, like Coco who had to get used to it. It can be crowded but it's also cosy.
Our bikes were due for maintenance
Coco is a bicycle repairman. Great. You can't imagine what can break on a bike if it's used by different people all the time! I expected it to take a while, but no. At the end of his first day most of it was done. Impressive.
"Great" I shouted, completely red and sweaty, from the work – we were trying to salvage a fig tree from brambles, "buttt … not so clever, if you were a little slower you would be nicely sitting in the shade fixing a tire, quietly by yourself!"
It was warm, around 30º C.
Which is fine if you're on holiday, hanging around and enjoying the sun and the breeze from the sea, but if your cutting brambles it gets quite warm.
It wasn't a problem for Coco, without saying much he came to help the team. We continued till noon. Then, when it became really hot, we went to do something else.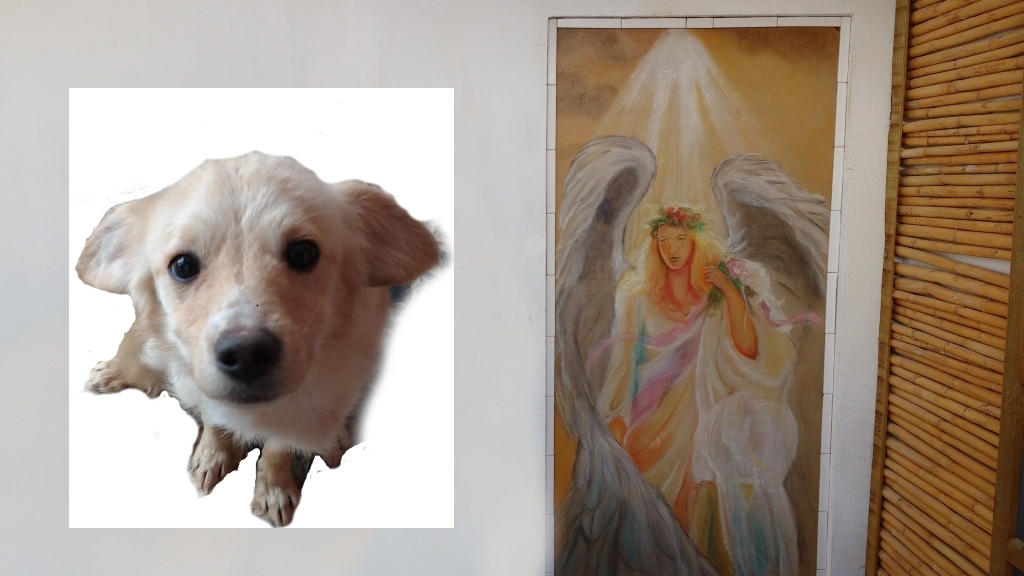 Bruno painted "the Angel", in the corridor of room Two. He stood there comfortably in the shade painting with a pastel chalk. "The little Dog" was lying at his feet.
"The little Dog" the stray –  a skinny blonde darling. You already know her as well, I tried to promote her adoption a while ago. I don't want anymore dogs, but nobody agrees, the dog most of all. She enjoyed herself, she felt safe and grew more comfortable around others every day. Everyone adored her and I knew I was beaten, it was useless to resist.
It's all hunky-dory
Till she had the accident. Our dog, Donkeydog, is very good with cars, but "the little dog" was too young and inexperienced. Donkeydog likes to chase the neighbor's tractor however the little one couldn't do that yet. She thought it was a very big dog she could play with – and if you fall over one another, it's no problema, just fun. But this was no fun.
It was a tragic end.
It's also a tragic end to a light verse blog. Sorry dear readers, I would also have preferred a different ending. Life is usually very pleasant here, but sometimes  nasty things happen here as well.
The Municipality is however already busy trying to change the road. And that is good news.
And Bruno was inspired to write a beautiful song. That is what I mean: multi-talented.