You probably don't want to read a blog about spring cleaning, dear readers, but that's actually the only thing we're doing now
This doesn't only apply to the accommodation; we're also going to get a new site!
The site is being completely renovated. It turned out that our theme was no longer supported, and then it's less likely you're found in Google.
Now we have a very ambivalent attitude towards Google. A love-hate relationship is the best description. Long live YouTube, Translate, Maps, and the search engine. But keeping an eye on everything all the time, selling your heart and soul to everyone who offers enough money, and their absurd persistence of logic.
We don't speak each other's language, Google and I
It doesn't matter, because a friend does speak that language, and she has taken on this task. She's doing the hard core technique, and I color the pictures. That's how it's fun to create a site.
An additional advantage is that I have time to help son Broes with cleaning and painting everything where necessary, and to make significant improvements here and there.
In the kitchen of room 2 for example. A little different design, a new stove, new refrigerator, all painted – it's waiting for a couple of parents who're sitting comfortably in their garden chairs, watching their offspring plus friends playing at the ditch.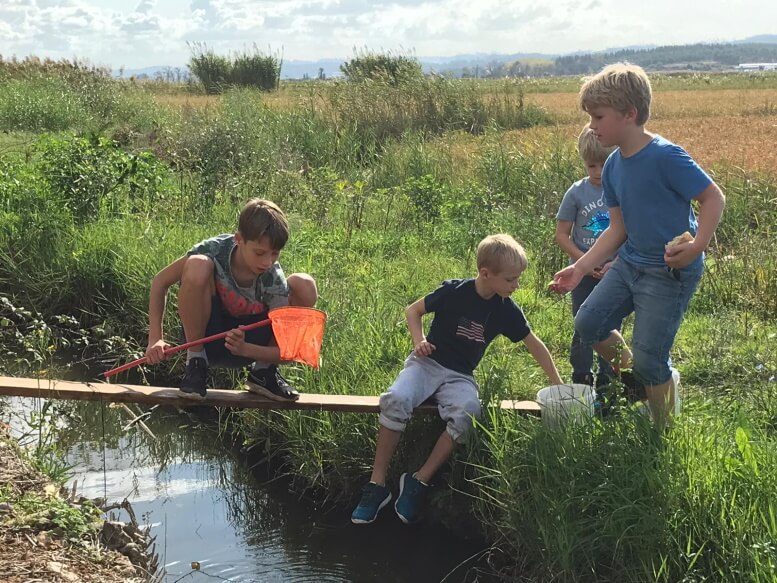 Unfortunately, I'm not such a talented writer that I can make a fascinating story out of these boring things. Sorry. We'll keep it short this week, in the hope that you yourself will come and see how it gets better and prettier.
Furthermore, everything is hunky-dory
Peace and harmony, and spring has begun. Well, who can write an exciting story if everything is so pretty and pleasant?
Greetings from all the little birds who are already having a great time, and one of which accidentally flew into the kitchen.