It could well have been the same time of year as now that I first spotted those two. The beginning of the end of summer, the donkeys were still in the meadow at the end of the campsite, and there were still guests (in November that pretty much ends).
Those two were Donkeydog and her sibling
They came from the hills, and sneaked around, looking for food. The donkeys seemed like very reliable big friends, so they liked to stay close to them, until one of those two-legged creeps came along again. Careful! People are scary, they learned that early on.
After a short while I only saw only one little doggo. The other apparently didn't make it. That one dog was a survivor, she always found something somewhere in a garbage can or bag. That was not much appreciated by those two-legged creeps, but well, you have to do something to survive, as a lonely dog.

After finding an emptied, overturned trash can on the campground a few times, it got too much for me. Something has to be done here, right away. The dog always sat peacefully with the donkeys during the day, you could see from afar, but as soon as that creep (that's me) came by in the evening to give her big friends a bowl of kibble, she disappeared without a trace.

But I wasn't crazy either, so to limit the robbing, I also brought her a bowl. Dog food, of course, because she clearly didn't like donkey chunks.

That worked. Until the end of the season came, and it was time to move the donkeys to the other stable in the orchard. Reluctantly she went along. The first time I managed to lure her to me and pet her is still vivid in my mind. She approached very timidly and slowly, realizing my good intentions by now, but you never know with those bipeds.
She allowed me to pet her head after she had sniffed my hand extensively
And when that was done, I've never seen a dog run so fast around a stable! Sheer joy plus end of suspense – she seemed like a combination between a volcano and a whirlwind.

That's how hard she ran after tractors when they got it into their brains to drive on our road just like that. Since she now had a steady job as a guard dog, and not lazy or scared, she would bark away any intruder, no matter how big.

I have warned guests and volunteers: "Never call her name when she's like this, there's nothing you can do about it, you won't be able to stop her anyway. All that happens is that you take her out of focus." And that's exactly what you shouldn't do if a dog runs next to a tractor, because then it goes wrong of course.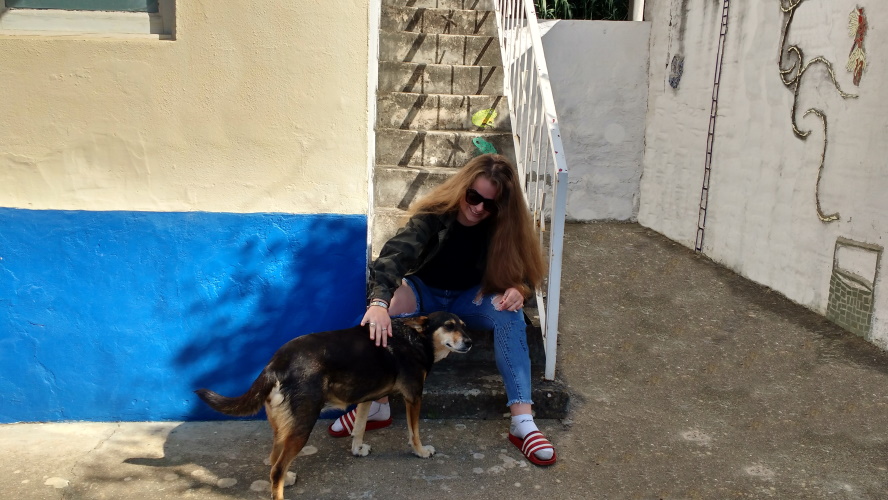 Because she could run so fast, she could also catch rabbits in the hills. Just a few years ago, she arrived again with two. We hosted a group of students who were deeply impressed by it. Some of the girls tried to save the half-alive bunny, but in vain. "It's nature, girls," I tried to cheer them up, "a fox could have grabbed them too."
So many memories!
How she compared to the other stray dogs we took in over the years, how she lay contentedly on friend Bart's lap, how she always secretly snatched friend Astrid's sandal away when we were unsuspectingly chilling in the evening, how she became everyone's favorite and how guests even came back for her.

A lot happens in 13 years, and she was always there. She must have had a hard time when the donkeys died of old age one by one. Now she had no great friends anymore. We started calling her – after Roos' example – Donkiedonk. Doesn't matter much to a dog, as long as you say about the same thing.
Dogs hear something like: "Blablablablablablabla EAT blablablablablablablablabla HEY! DON'T! blablablablablablablablabla WANNA BITE? blablablablablablablabla DOYOUCOMEALONG?"

The last year was tough. The same thing is starting to happen with pets as with people: they are kept alive as long as possible through intensive medical care and medication. Donkeydog had heartworm, a nasty parasite that eats your heart away. They are small, but they keep going. And if you don't know, you won't notice it at all in the beginning.
It only came up when she went to be sterilized and was already on the operating table
She had become pregnant only once by accident after a few years. Before that, her birth control method was very simple and very effective: as soon as an interested male came close, she just sat on her butt. See how you get where you want, my friend. She only had to become aggressive once because it was clear: no interest, thank you, keep walking.

The last year was tough, but she was very lovingly cared for by Maria on the weekends, and because she stayed closer and closer, the rest of the time by us.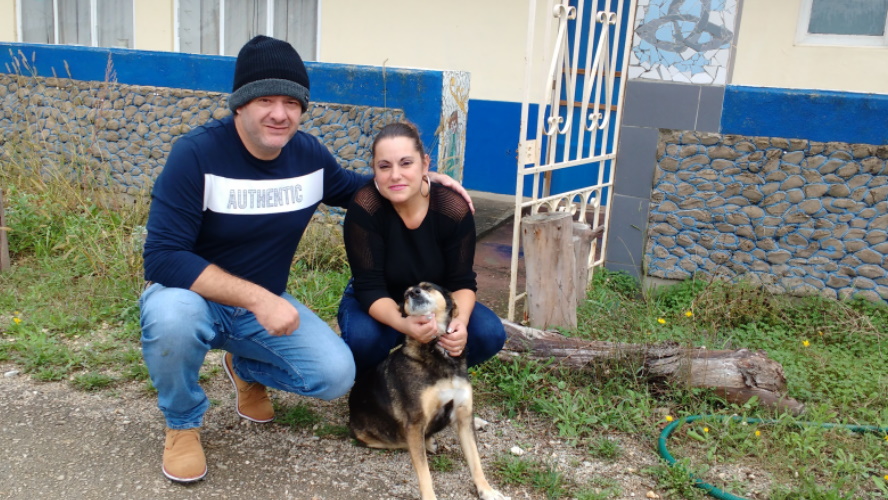 She's had a good life. If she had been human, she would have been a sweet, content grandma with a sideboard full of photos and memories.

Byebye Donkeydog, Donkiedonk, Duncky, thank you that you were here with us! Have a good time in dog heaven, and let's just say: see you next time around, baby.
.
We moved here in 2000 from Rotterdam, Holland to the Termas-da-Azenha, Portugal.
A big step, especially with two small children.
We are busy to rebuild one of portugals cultural heirlooms: Termas-da-Azenha, an old spa which has been turned into several holiday houses, rooms and a campsite.
You'll find mosaics and paintings everywhere.
Since 2018 we call ourselves the first B&B&B in the world – Bed & Breakfast & Bathrobes. You can buy a home-made unique bathrobe/housecoat with us.
Each week a little blog about what is happening around us. An easy read. A few minutes in another world. A little about what it going on in Portugal. If you plan your holiday to Portugal, it might be a nice preparation
You can subscribe to this blog- see at the right side of this page »
You'll get it every weekend in your mailbox.
On Sunday morning we publish it on our Facebook and on Instagram.