"Well what the … what now ?! I do exactly what you ask me to do!" I am getting seriously frustrated with this text message. Whatever I do, I get "Formata da resposta incorreto" all the time. Even if you don't speak Portuguese, you probably understand what it says.

This is the wrong answer! that's what it says. Or the wrong format. Oh, that Portuguese is worded so unnecessarily complicated every now and then.

The point is: I have no other answer. And no other format either.
I give up for now. Maybe I'm overlooking something or whatever. I'll see tomorrow. Amanhã…
The next morning I receive a call. Whether I can visit the Pavilhão Multiusos on Friday for the vaccination. Ha! You see? Just wait until amanhã, then formats and answers are no longer necessary.

Although, an answer is necessary, of course. Yes. Of course. I'll be there. Around 12 o 'clock. Beautiful.

Well arranged, it looks like. A spacious tent, with all seats neatly more than a meter and a half away

I am greeted in a friendly manner. I may proceed directly to the next friendly lady. She asks me if I'm on medication, if my blood is flowing nicely, if I recently had a transplant – noyesno, all fine, dear madam. I'm very healthy.

I get to sit down on the next collection of tidy-remote chairs, and then am picked up again by another friendly lady. I have taken my book for nothing because I'm not seated yet or I can go on again.
All very well arranged. Hats off, whatdoyouknow, Soure! Well done!
I've never really thought about how much is involved, with such a tiny injection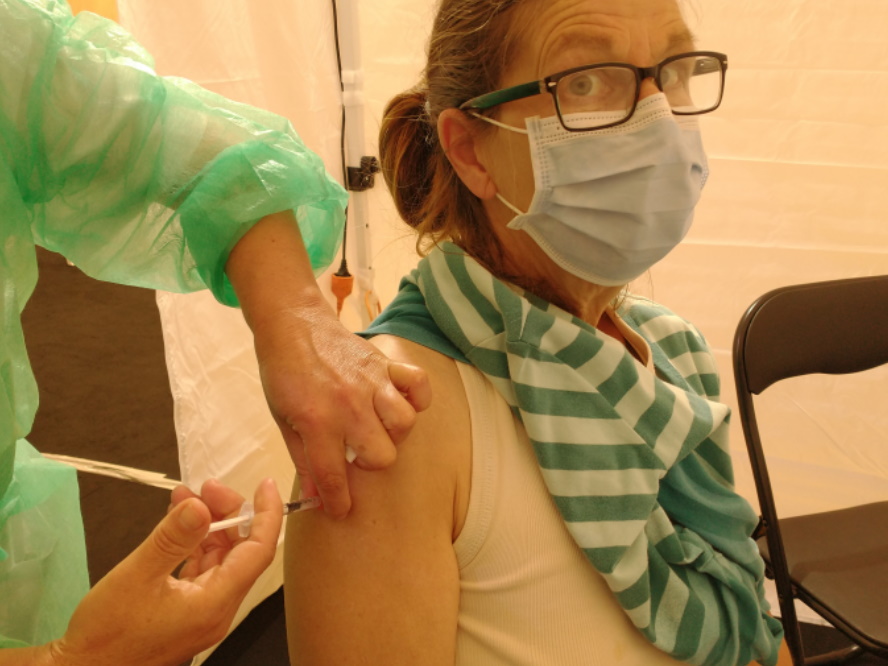 In the next room there are again a lot of chairs, but there are also people on it. There is a TV with soothing images of forests, streams and mountains. Spiritual music. If you don't get well, you can be placed in a bed in a separate ward.

But I'm going too fast, because we first go to one of the tents that have been set up in the room. There are two women in white coats, with a third in green next to them who will do the real work. We greet each other "Boa tarde". I ask what stuff I'm going to get injected with.
That'll be Jansen. Fine. What do I know about it? It's just nice to know
I ask: "Can I take a picture? Or rather: does one of you want to take a picture? " They all like that. A fourth woman comes to the party. "To show to the family in Germany?" (Germany and the Netherlands are often confused – doesn't matter, but I always correct: "Sim, é para a minha família na Holanda."

I'm not so fond of needles in my body, but it is over in no time. "You can sit here for half an hour, in case you might not be well," the injection lady says. "Oh, that'll be fine," I answer stiffly, but no: I may not leave immediately. Sit first. Half an hour.

Yes yes, fine. I'll behave appropriately, like a real Portuguese. Law-abiding. I will remain seated neatly. But I don't know about the half hour …

I'll keep it up for 10 minutes. Then suddenly a white cat trundles in, falls at the feet of the man sitting in front of me, and stretches comfortably. Wow. That's what I call service!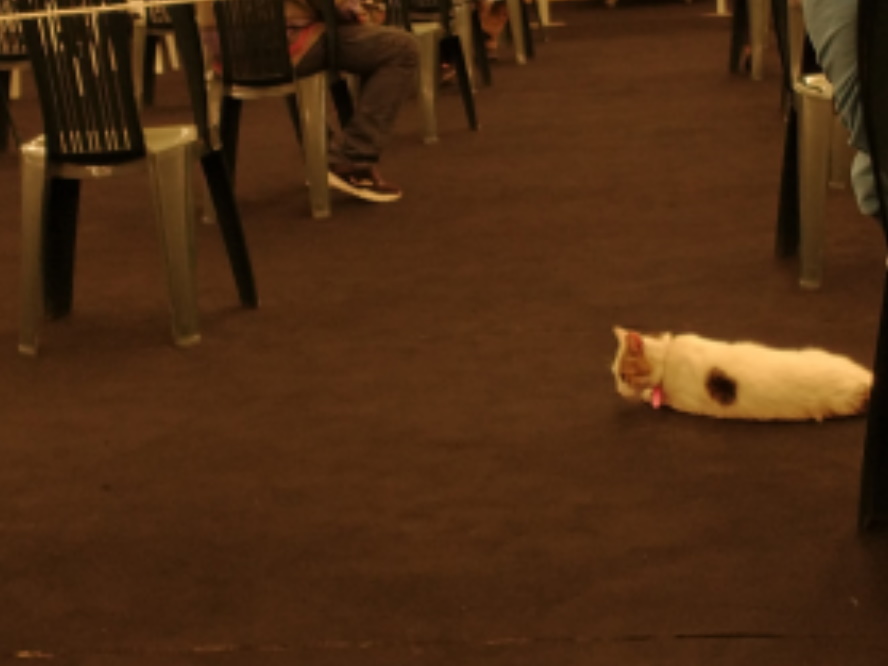 They even hired a comfort animal!