Beautiful weather here, dear readers … it is blue, sunny and warm. And humid, because we landed in the humid half year of the year.
Great weather for mushrooms!
You see them everywhere. Then here, then there. Sometimes they are gone within a day. By themselves, then their life is over, or somebody spotted and picked them. A lot of people know perfectly well which ones are edible and which ones are best left alone.
Mushrooms have a reputation, but few are so poisonous that they kill you instantly. This one here is tricky, it's called "death cap" – which says it all: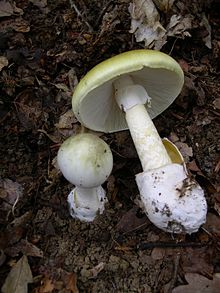 I was given a large bag of mushrooms as a gift. Freshly picked in handfuls at a time. I'm going to make a nice soup* out of that. There are so many recipes, risotto will also be possible. Or a penne-with-mushrooms… so many possibilities.
You may already have your favorite mushroom recipe, or you can google it.
It was completely unknown to me, ignorant city-girl that I was, that you can walk into the woods and come back with a big bag of mushrooms
For my sons, that was perfectly normal; at their first school they ran straight out of class into the woods. That was the schoolyard. And when, in the fall of their first year, the other kids arrived with hands and pockets full of large white-beige mushrooms, we were very surprised that you could apparently do that just like that. All the kids at that school knew exactly which one they needed.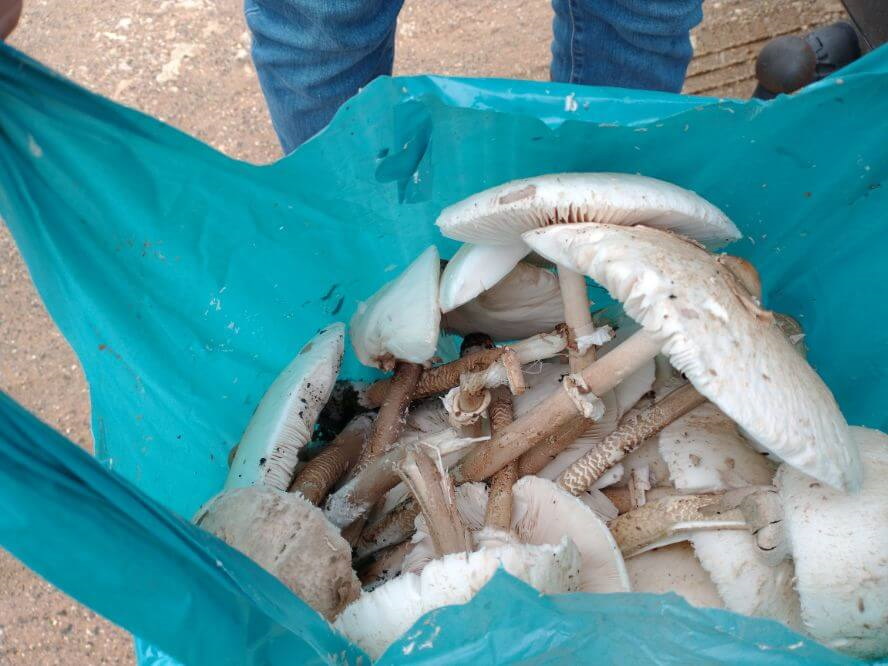 Now, we live on a low-carbs diet (without purchasing all kinds of special products, just omit things) and then the following recipe is really tasty:
Ingredients
250 grams of mixed mushrooms
1 lemon
2 spring onions
2 large sea bass fillets (can also be any other white fish)
pepper and salt
2 large tablespoons of butter
Preparation
Scrub the lemon clean and grate some of the rind. Clean the mushrooms and cut them into slices. Wash the spring onions and cut them into rings. Sprinkle the fish with salt and pepper.
Fry the fish in plenty of butter for a few minutes until brown and cooked through. (So your pan + butter must be really hot! Stay on top of it!)
First fry the spring onions, then the mushrooms in another pan, again in plenty of butter. Season with salt, pepper and some grated lemon zest. Save a few slices for the fish.
Divide the mushrooms between 2 plates and place the fish on top.
If you fancy a carb or two, you can add anything to this: a baked potato, chestnut puree, pasta or rice.
Soup: clean (I discard the stems), cut, in a pan with onion and garlic and salt and a tiny bit of water, cook, make puree: super soup!
Packed with protein and fiber, and that's what we low-carb-people like to eat. Enjoy!
.
We moved here in 2000 from Rotterdam, Holland to the Termas-da-Azenha, Portugal.
A big step, especially with two small children.
We are busy to rebuild one of portugals cultural heirlooms: Termas-da-Azenha, an old spa which has been turned into several holiday houses, rooms and a campsite.
You'll find mosaics and paintings everywhere.
Since 2018 we call ourselves the first B&B&B in the world – Bed & Breakfast & Bathrobes. You can buy a home-made unique bathrobe/housecoat with us.
Each week a little blog about what is happening around us. An easy read. A few minutes in another world. A little about what it going on in Portugal. If you plan your holiday to Portugal, it might be a nice preparation
You can subscribe to this blog- see at the right side of this page »
You'll get it every weekend in your mailbox.
On Sunday morning we publish it on our Facebook and on Instagram.