Flashes. Rumbling. Fortunately, it is more threatening and grumbling than a real full-blast thunderstorm. Like a while ago: suddenly a huge bang in the middle of the night.
Between the showers and grumbling, glueing the broken tiles to the facade
After regular guest / friend Astrid went home, it's like that. Large low hanging clouds from which drizzle or downpour comes out. Or an even gray sky that makes everything look like a wet sponge. You probably know it better then you'd like. Northern weather.
Astrid had conceived the plan to make quite a few meters with the broken tiles during the time that she was here. I thought that was very loyal, and very sweet, and she did it!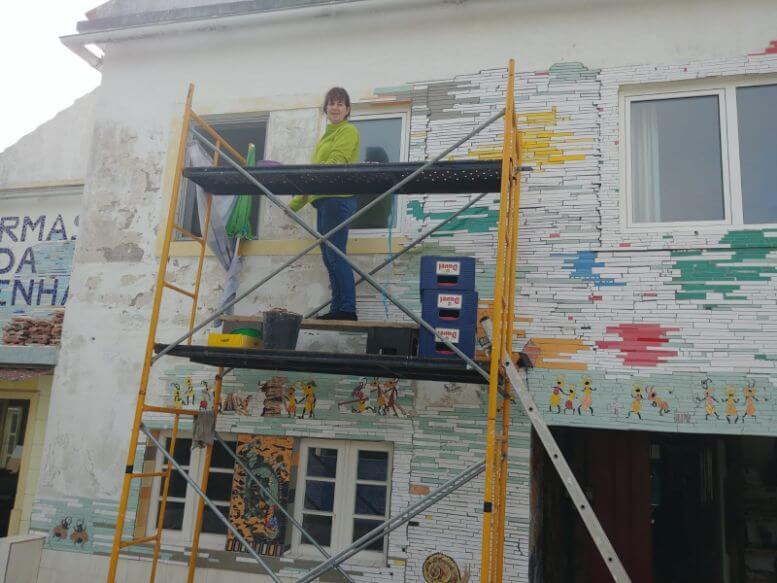 Before that, Roos – also a recurring charming character in this blog, and in our house – had made a beauty of a dragonfly, and a mischievous ant that looks around the corner of the pile of wood.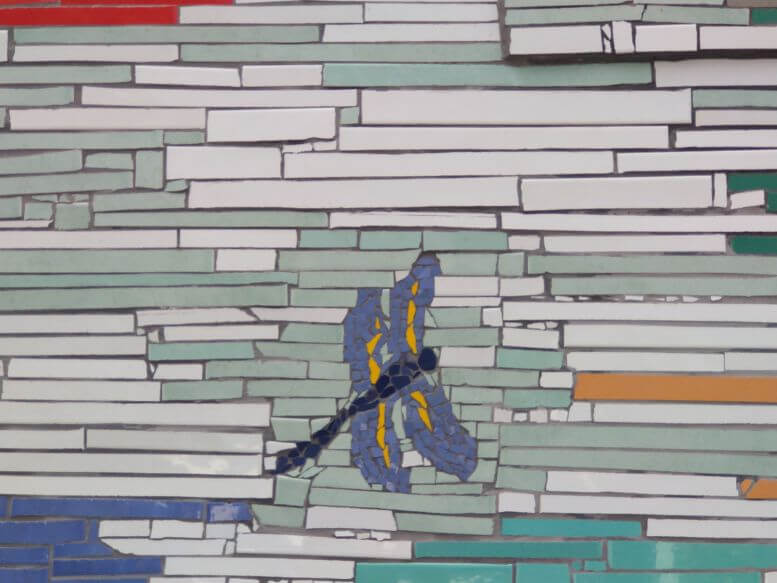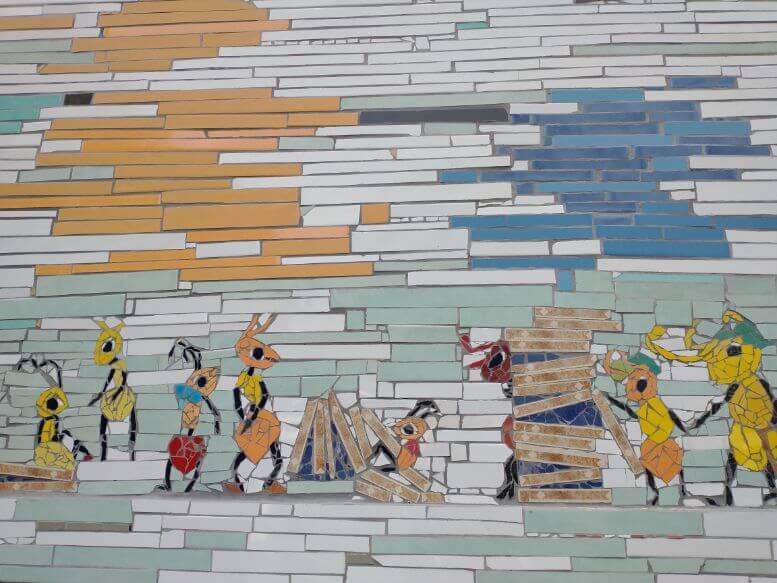 After their departure, I wanted to have this piece of facade finally finished before the end of October. And yup, it worked! During the worst downpours I created the figures on the board, and when it was dry, I quickly glued them on.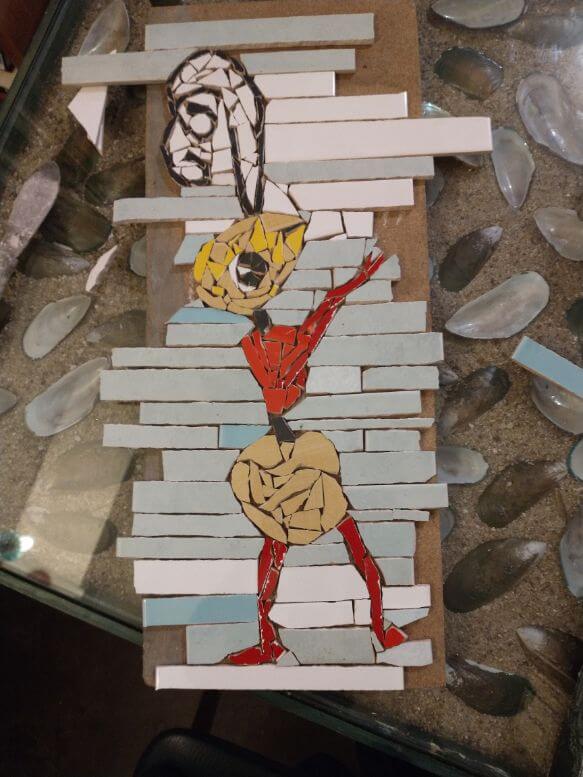 Now there's just a little bit of grouting left. That's not going to happen today because the flashes and the grumbling woke me up this morning. All right, weather gods, then it'll be tomorrow.
It's not the end of the month yet.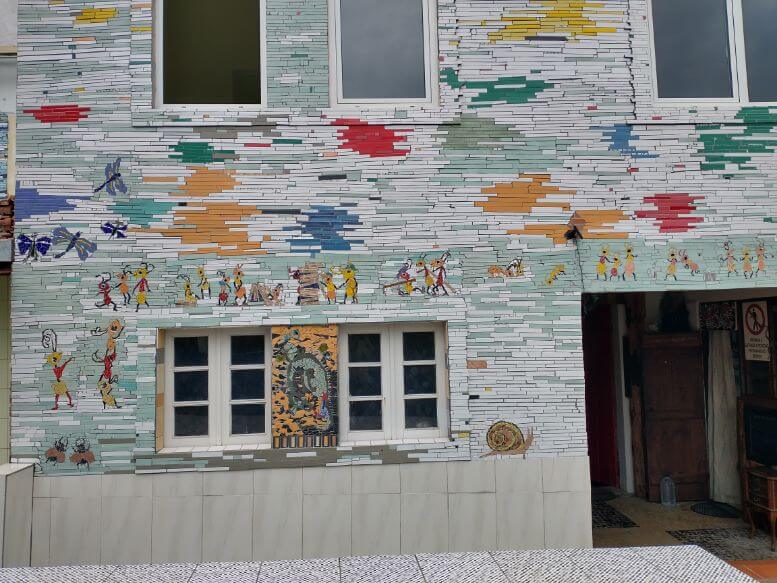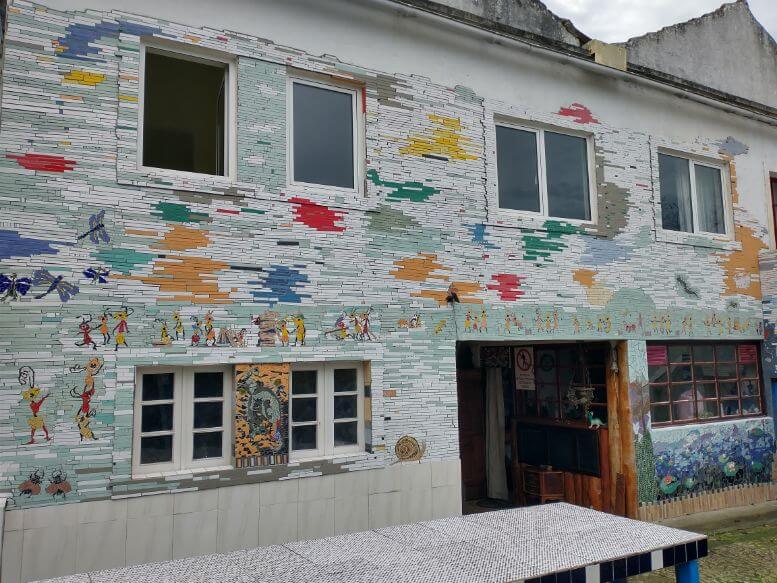 .
We moved here in 2000 from Rotterdam, Holland to the Termas-da-Azenha, Portugal.
A big step, especially with two small children.
We are busy to rebuild one of portugals cultural heirlooms: Termas-da-Azenha, an old spa which has been turned into several holiday houses, rooms and a campsite.
You'll find mosaics and paintings everywhere.
Since 2018 we call ourselves the first B&B&B in the world – Bed & Breakfast & Bathrobes. You can buy a home-made unique bathrobe/housecoat with us.
Each week a little blog about what is happening around us. An easy read. A few minutes in another world. A little about what it going on in Portugal. If you plan your holiday to Portugal, it might be a nice preparation
You can subscribe to this blog- see at the right side of this page »
You'll get it every weekend in your mailbox.
On Sunday morning we publish it on our Facebook and on Instagram.