"Well, this is really worth the detour," Yvonne says appreciatively, "I'm glad I followed Henriëtte's recommendation. Nice to have a room all to myself for a few nights. Take a break."
Yvonne walks the pilgrimage route to Fátima, with stamp booklet and al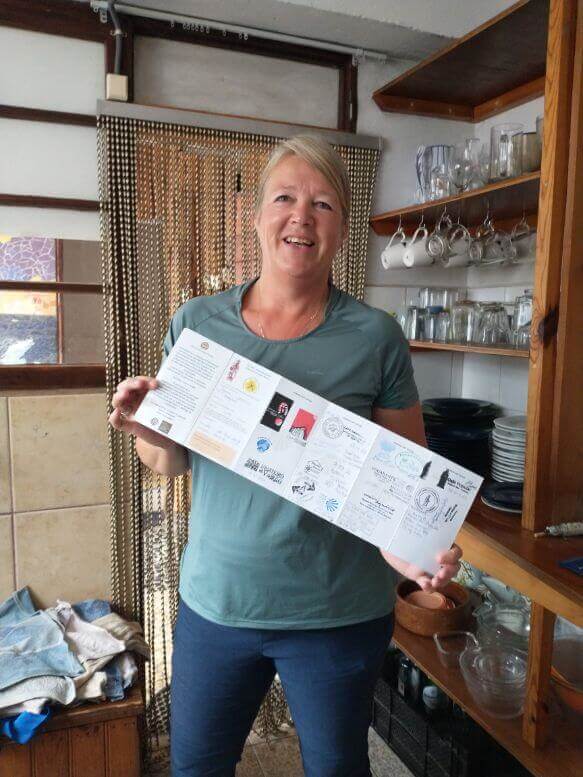 She has already done the road to Santiago de Compostela. "It's getting busier," she says, "there are more and more people who mainly walk the last part, so there's not much contemplation." Despite the crowds still worth the walk. Yvonne is a combination between a hiker and a pilgrim.
We have our own pilgrimage site here: Fátima
There, three shepherd children were visited six times by Mother Mary, about a hundred years ago. Very briefly: at the end of WW I, three shepherd children, who lived near Fátima, met with Mother Mary. Every time on the 13th of the month. Mary spoke to them and foretold the end of the war, but also the beginning of the second world war. You can read exactly how it works on the Wikipedia page.

Fátima thus became a famous place, and people went on pilgrimage there

And it still happens a lot. You can enter a shop here in a neighboring village, where the owner sighs: "Oh, if the senhora would like to grab that herself, I walked to Fátima for the weekend and my knees don't want to anymore."
It is, according to good Catholic custom, that you atone for your sins by walking to Fátima
Traditionally, people prefer to walk in May, August and October, and in slippers along the highways. That seems fine enough to me. On the other hand, there are also vans driving around to help the pilgrims, and you can spend the night here and there very cheaply.

If you live too far, you walk as far as you can, and the next time you continue from where you left off.

The Catholic faith is also very practical, as is the Portuguese national character; after all, we all have to work for our daily bread. Then you can't just walk from Trás-os-Montes (north-east of Portugal) to the coast, that takes too long.

An awful lot of people still come to Fátima, especially on the 13th of every month. Processions are held, as you can see on YouTube. What's remarkable and really nice: even during singing the sign language interpreter translates. Very special.
Not so many people go to church every Sunday anymore, but Fátima is still popular
Portugal is the same as any European country, heavily secularized in recent years, but there are still plenty of Catholic believers left. There are people who crawl down the marbled path on their knees, and even around the chapel 7 times, to have their sins forgiven. And for the good of humanity in general.

We can appreciate that, because it doesn't seem like a bad thing to me, even though they made it easier by making a smooth marble path, which doesn't hurt your knees so much.

There are many people who light candles – there are candles for sale the size of Disney's Hercules, in the shape of legs, arms, breasts, a heart, to beg the cure for a nasty illness. You probably know the phenomenon of a normal Catholic church: you buy a candle, put it on a specially made rack, you pray about your wish, and that's it.
That has become a bit different in Fátima
That place seems to have become hellfire, where people throw whole traumas and illnesses into it. I find that quite striking, in the sense that heaven is constantly working with paradoxes like that. Of course it's not so funny for those people who hope and believe that their heart disease will be cured by throwing a burning heart into the fire.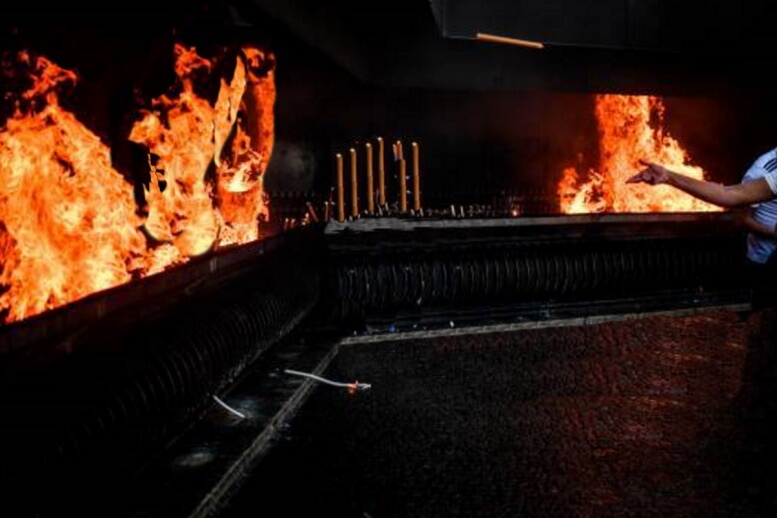 I sincerely hope that works, because heaven also has nice surprises for the people every now and then!
.
We moved here in 2000 from Rotterdam, Holland to the Termas-da-Azenha, Portugal.
A big step, especially with two small children.
We are busy to rebuild one of portugals cultural heirlooms: Termas-da-Azenha, an old spa which has been turned into several holiday houses, rooms and a campsite.
You'll find mosaics and paintings everywhere.
Since 2018 we call ourselves the first B&B&B in the world – Bed & Breakfast & Bathrobes. You can buy a home-made unique bathrobe/housecoat with us.
Each week a little blog about what is happening around us. An easy read. A few minutes in another world. A little about what it going on in Portugal. If you plan your holiday to Portugal, it might be a nice preparation
You can subscribe to this blog- see at the right side of this page »
You'll get it every weekend in your mailbox.
On Sunday morning we publish it on our Facebook and on Instagram.