Today I had leftover tzaziki. I love tzaziki but enough is enough. And tomorrow it'll be no longer nice and crispy.
I was inspired by a famous portuguese lore "Sopa da Pedra"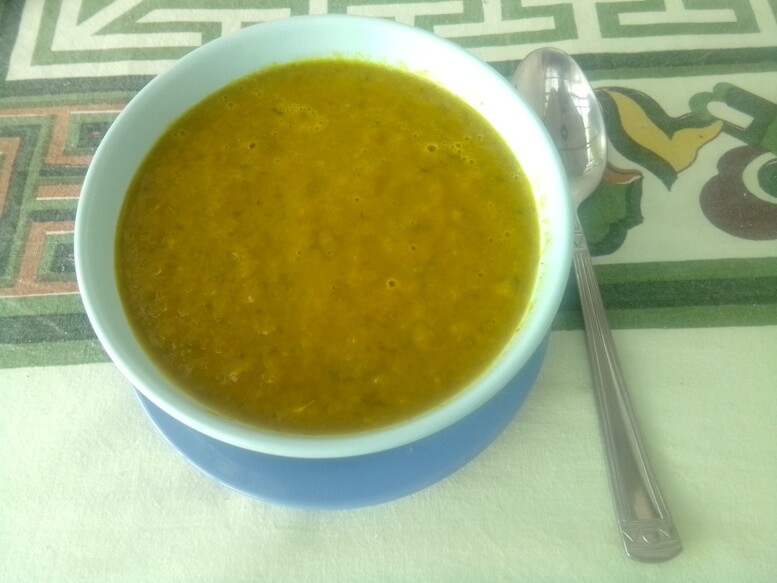 I had beet, beet leaf, chives and celery from the garden. I had to freeze a huge bag of carrots, so I did that and saved the cooking water (I ate enough carrot soup for a while). I cooked the beet leaf and the beet in it, added an onion and of course some garlic, a little ginger, two vegetable stock cubes, some turmeric and sambal (indonesian spicey sauce).
And there you go, the tzaziki went in too!
My train of thought was: you also put yogurt in pita bread, so since it only contains yogurt, pepper, salt and cucumber – and garlic of course – it can't hurt. And otherwise, too bad, I ruined a pot of soup.
I love turmeric. "Acafrão das Índias" in portuguese. You may also come across it as yellow root or kunyit, usually in Indonesian recipes. It is a healthy and very tasty herb – great combination.
This soup was delicious. Nice and spicy, and creamy, because of the turmeric, and I always add a dash of cream.
Why soup?
I have mentioned that we eat as much as possible from our own garden, so organically, without poison and without fertilizer. And in recent years we have been eating fewer carbs. The idea behind it is that we modern people sit a lot and don't do much heavy work, so you don't need all that stuffing.
It's keto but not fanatical.
You eat a lot of vegetables, meat and fish when you eat keto-ish. No potatoes, pasta, rice, bread, muesli, and all that stuff. To get those hundreds of grams of vegetable (fibers) per day, I invented the soup for myself. Every day around four o'clock a bowl of food to keep my microbiome content.
Usually I make a big pot, so normally I grab a bowl from the fridge and heat it up in my solar oven. Once in a while I take a good look around in the garden and in the kitchen, and mix everything up.
I determine the "direction" – will it be spicy, curry-like; will leek determine the taste or asparagus? If you start with cucumber, it is better to add bell pepper and piri-piri; if you start with tomato, then celery goes in, and maybe cumin and coriander. Vegetables are like fruit, you can put a lot together, but not everything.
You can make a soup from anything and everything
Even from a stone: a wanderer arrives in a village, where no one wants to give him anything to eat. That is completely against Portuguese hospitality, so that's why the story may have become famous. At last, after having been asked and refused everywhere, he sits down in the middle of the village square with a stone in his hand, and sighs, his face turned to the sky: "Oh, what a delicious soup I could make from this stone!"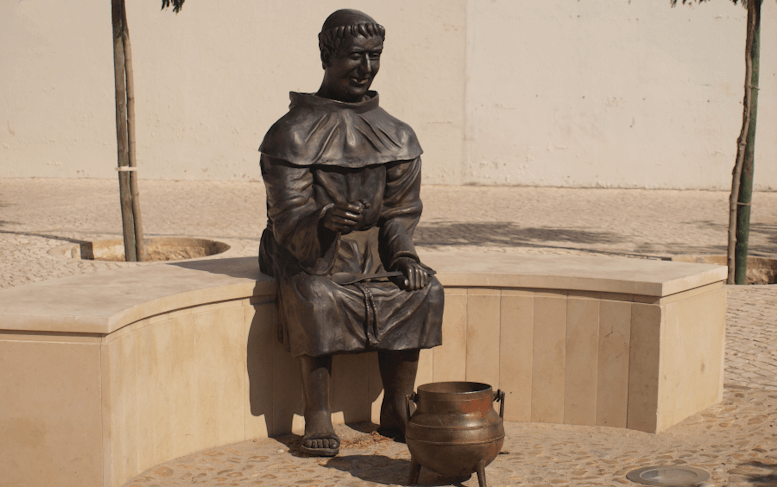 Someone hears him, cannot restrain his curiosity, goes to him and asks: "How is that possible, how could you do that, make soup out of a stone?"
"If I had a jar, I could show it to you" the drifter replies, to which the curious man immediately goes to fetch a jar. The other villagers can no longer contain their curiosity either, and the vagabond gets them to fetch wood to make a fire, hang the pot above it, draw water from the well, bring salt and spices, and finally also rice, a potato, garlic, an onion, carrots, leek – while the stone is "pulling" in the pot in the meantime.
Clever man, that rolling stone.
I throw all kinds of things in my soup, but so far never a stone. Maybe it's worth a try.
.
We moved here in 2000 from Rotterdam, Holland to the Termas-da-Azenha, Portugal.
A big step, especially with two small children.
We are busy to rebuild one of portugals cultural heirlooms: Termas-da-Azenha, an old spa which has been turned into several holiday houses, rooms and a campsite.
You'll find mosaics and paintings everywhere.
Since 2018 we call ourselves the first B&B&B in the world – Bed & Breakfast & Bathrobes. You can buy a home-made unique bathrobe/housecoat with us.
Each week a little blog about what is happening around us. An easy read. A few minutes in another world. A little about what it going on in Portugal. If you plan your holiday to Portugal, it might be a nice preparation
You can subscribe to this blog- see at the right side of this page »
You'll get it every weekend in your mailbox.
On Sunday morning we publish it on our Facebook and on Instagram.