We walk just around the bend, Mira and I. I stop because a car is coming. "CAR" I say with a frowned emphasis, as always, trying to make it clear to the dog that these things are serious. Suddenly, right in front of my feet something is moving, and fluttering around in circles.
That's weird. I unhook Mira, yell, "GO!" with an inviting gesture to the rest of the world, another attempt to teach her something – and take another look.
A little bird with a big problem
I pick her up, and see that her leg is damaged. I carefully walk with that little animal in my hand, the other one above it, back home and put her in the greenhouse. There's a warm blanket. I can fold it so that the bird is protected.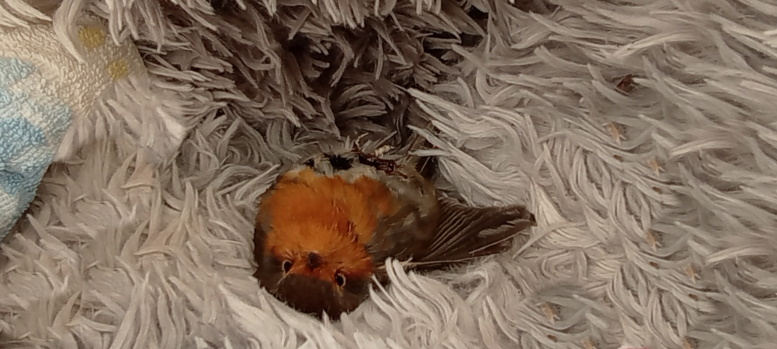 The leg of that little birdie is so thin, my finger looks like an elephant's leg.
And then I recognize her! It is the robin that came by every morning at breakfast last summer. It really seemed like she came to say good morning. I had bought special canary food, because the chicken food is so coarse that such a bird is already full with one grain. Can't digest it probably. Dies from the enormous gluten that is in it. Or do birds have nothing to do with gluten?
I haven't seen gluten-free bird food yet, but then again, we don't live in the most decadent part of the world.
I don't dare do anything about that leg anymore, so the only thing I can think of now is to put her in a safe place. I think: "If it's her destiny, she'll make it, otherwise she'll have a soft place to die." We're starting the walk again. Fortunately the sun is shining now.
Later in the afternoon I suddenly get a fright: o, the little bird!
Forgot all about her! I sneak to the greenhouse. She's lying on her back, and she's a bit scared of me, suddenly her two beady eyes open wide. I try to put her back, because she is almost in the bowl of water.
I had cleaned a tea light and put water in it. Her other leg has become entangled in a loop of the furry blanket. Holy guacemole, that is a difficult task, to get that loose. The toe is even thinner than the leg, and the loop is wrapped very tightly around it.
She probably tried to get away. Go to her bird-family
I very carefully pull thread by thread. I don't dare pull that toe. What a mess, one leg damaged, and the other hooked. With a lot of patience it works, and I can put her back in her corner, but not before I've turned the cloth. The other side has no loops, so she's not in danger there.
In the evening I bring her inside. It's safer – there are always cats roaming around here, from the neighbors or strays – and it's warm. She's probably not used to that, because birds sleep outside in the ivy. Summer and winter. But better a little too warm than in a cat's mouth.
Apparently, birds don't mind the cold. I always wonder when I see the bigger ones, the storks, ibises and herons, standing in the cold water, waiting patiently for a frog or a fish.
The next morning she lies very quietly. I bring her outside again, but it's in vain. At the fourth check there's a fly on her body. A clear sign that the bird has passed.
I make a small hole at the edge of the vegetable garden.
"Till next time, little one, see you soon" I say, and put her in it.
Birdies must reincarnate very quickly.
.
We moved here in 2000 from Rotterdam, Holland to the Termas-da-Azenha, Portugal.
A big step, especially with two small children.
We are busy to rebuild one of portugals cultural heirlooms: Termas-da-Azenha, an old spa which has been turned into several holiday houses, rooms and a campsite.
You'll find mosaics and paintings everywhere.
Since 2018 we call ourselves the first B&B&B in the world – Bed & Breakfast & Bathrobes. You can buy a home-made unique bathrobe/housecoat with us.
Each week a little blog about what is happening around us. An easy read. A few minutes in another world. A little about what it going on in Portugal. If you plan your holiday to Portugal, it might be a nice preparation
You can subscribe to this blog- see at the right side of this page »
You'll get it every weekend in your mailbox.
On Sunday morning we publish it on our Facebook and on Instagram.