Here you see the result of a few months work. It looks like a small wall, but all in all it takes a little while. Now, of course, we are not talking about 24/7.
This project started in the early days of the summer. In fact, this year is already "The year of the Butterfly"
A Russian girl gave the kickoff. She was here with her little sister, uncle, mother, grandmother and big dog for about a month and a half. She wanted to learn mosaics, and since I was working on another project called "The Little Mermaid" – she could easily participate.
She had an eye for it, more than her little sister. The latter was actually too young for that (4 is a bit young), and perhaps too impatient and too quickly distracted. No problem, Lisa went on.
She made the first butterfly, which was the pink one on the left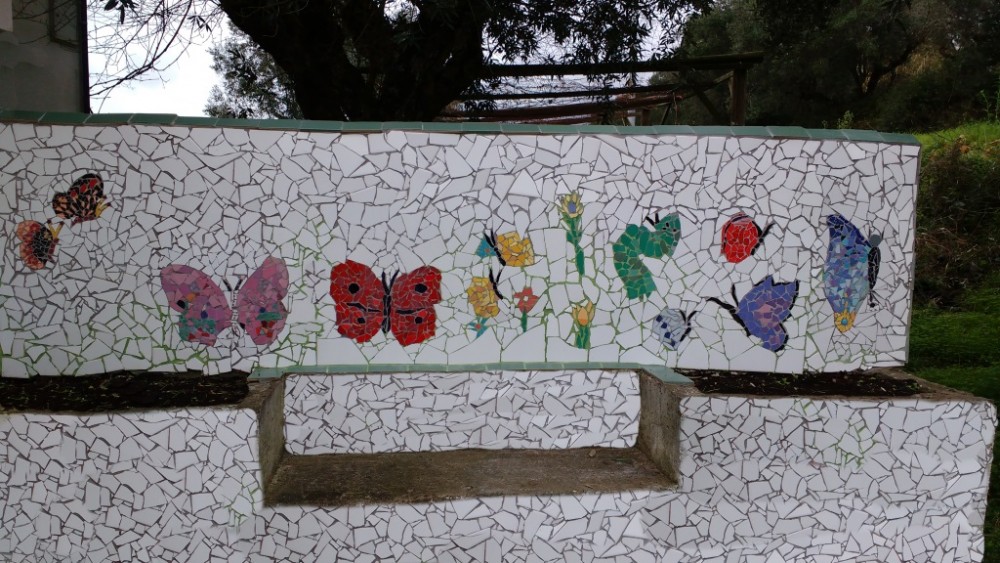 Next, it was my sister's turn. Exept for a few butterflies, they made some flowers as well. And the caterpillar.
I expected that summer guests would like to join in, but even though I have given many mosaic workshops, everyone would rather make something to take home.
French Nathalie was the only one who really enjoyed making a butterfly, and did so with great dedication. In one day she had made a large one out of very small pieces. Chapeau!
After the summer, my mosaic-buddy Astrid would come by, and volunteer Gerda had also indicated that she'd already done little things, and couldn't wait to do something bigger.
That's of course the big advantage of the Termas: you can go big. Walls enough.
That's something completely different than a bowl or a bird house.
That has its own challenges, don't be mistaken! Working small is quite difficult, but I can imagine that at a certain point you might be fed up with it, that fiddle-die-doo on the square centimeter. Anyway, I am someone of the big gesture …
Front and back: check, side: check, top: check. A wall has so many sides …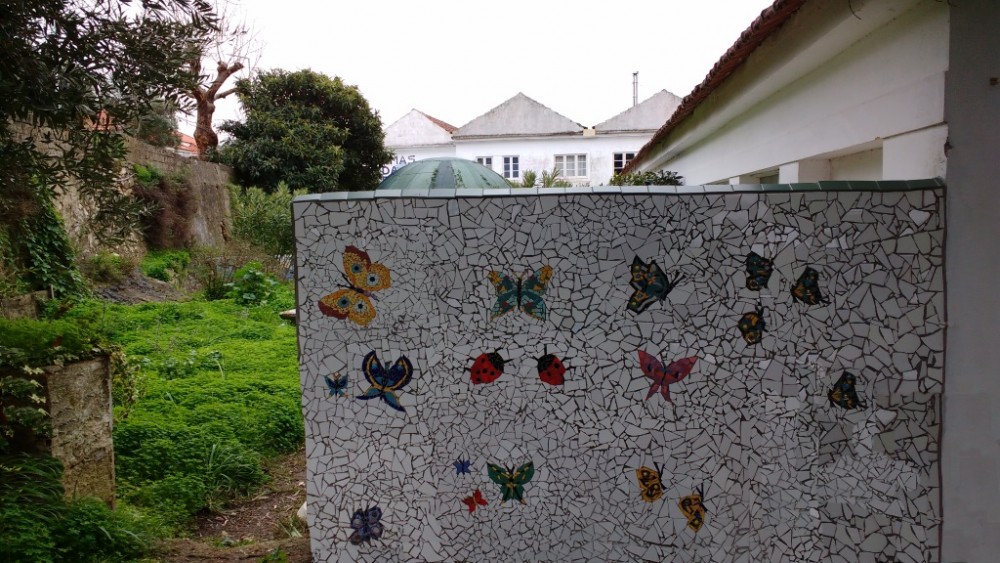 There was a guest who would like to participate with the Butterfly-Wall: Lucille. Also French, cooked great, nice bunch of guests, and besides nice memories of tasty meals she also left a beautiful palpable butterfly.
Astrid, daughter Isabelle and Gerda added a few more …
… and when they were gone, it started to rain. This means that it is not going to be finished soon … until the sun showed itself again. I grabbed myself by the hair, made some glue, took the box with white pieces and the mosaic pliars, and started working. Not too bad: in the morning sun.
Simply sticking pieces of white is just work, no fun
Finishing a mosaic is not always fun. Then the big gesture is quite a disadvantage; you would prefer to be fiddle-die-doo-ing on the square centimeter. Anyway, matter of discipline.
It's finished! Wonderful! Decoy butterflies on the wall, now butterflies in the garden
That will take some time, because they are now naturally too cold. But! Hopefully all the flowers will come up again, not too long, because in March it is already spring.
In Termas-da-Azenha, 2019 becomes the "Year of the Butterfly".
(Thanks to all people mentioned above who participated in this lovely project!)