When I go in the Lidl in Figueira, I bump into an old acquaintance.
"Olá olá Helena!" – but the masked woman doesn't immediately seem familiar to me.
She quickly pulls down her mask when she sees me thinking.
"Ah! Professora Ana Paula!"  I exclaim in surprise, because it has been years ago that I suddenly met her so unexpectedly and spontaneously. And that was also at Lidl, I remember, but then the one in Soure.
Yes, now I see it, she doesn't seem to have changed. "I visited you years ago," she says, "but you weren't there. Broes was there, and I just didn't recognize him in the beginning. So big he has become!"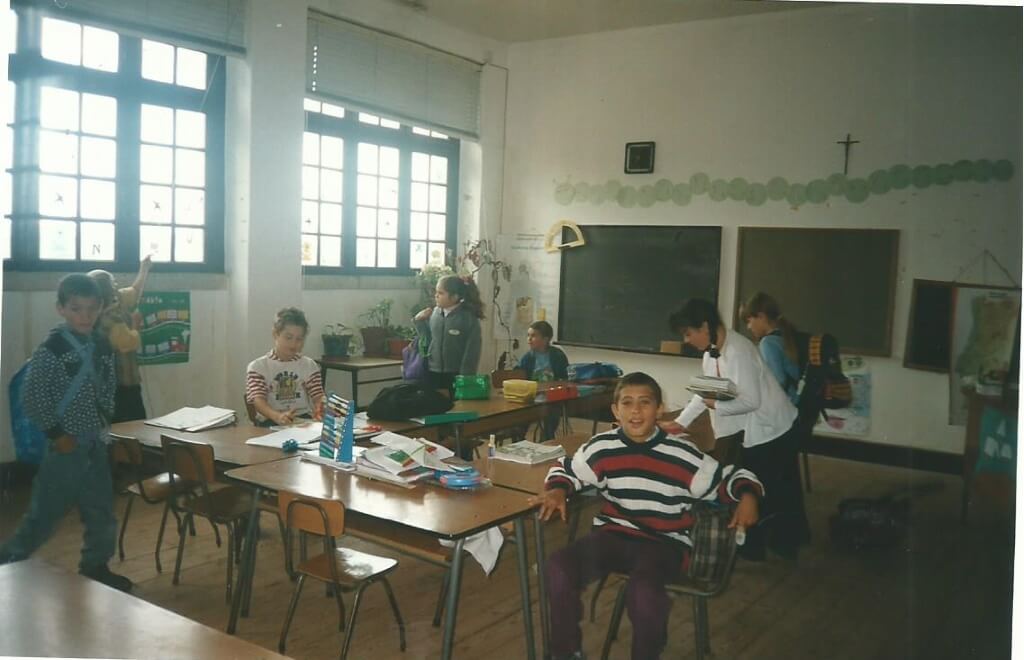 In Portugal we're often quite formal
If you are good friends, or if you have a lot to do with each other, that may change, but being polite, respectful and friendly is the norm. Formal is normal. I've known some people for years, and we still are using the 3rd form – which is a formal thing to do – and that's not going to change.
So the professora and I always use that formal tense. And a professora has little to do with a professor, because it is a school teacher. A professor (m / f) is called a Doutor / a.
There you go, you're welcome! As if I'm a professora myself …
I ask about her son, Diogo, who of course has become just as big as Broes. Diogo now lives in Lisbon, but fortunately comes to visit often, at least pre-Covid. Meanwhile, the memories in my head are stumbling over each other.
Oh gosh … that first time at school …
The school in Pedrógão consisted of one entrance and one classroom. The toilets were outside, in the covered courtyard, but separate. I am writing in the past tense because it's closed. When we went to the school, it was still law that there had to be a school at max x distance from a village or hamlet, and that there had to be at least 3 pupils.
It closed for lunch hour. Then the Associação van came to take the children home and pick them up again, because for most it was too far to walk back and forth. And you still had many parents without their own transport.
We had found out with great difficulty where to go if we wanted to send our boys to school.
Everyone got a little nervous about us – oversized foreigners who spoke crooked Portuguese
In the end we were lovingly welcomed by the "stora", and I was forced to go to the school too. Professora Ana Paula already had 8 children in 4 different classes, so she could not teach two foreign children to read & write in portuguese.
There were no classes for children in a foreign language available, so our boys didn't speak a word of portuguese. We kind of did, but it wasn't anything special either. The basics, that was all it was. So for me it was great that I could come along to teach the oldest.
We could learn to read and write together all over again, and master grammar
Broes started to learn to read and write together with João Pedro, who are still best friends. And with Joana, Guilherme, Christiana – all of whom have long since moved away from the countryside.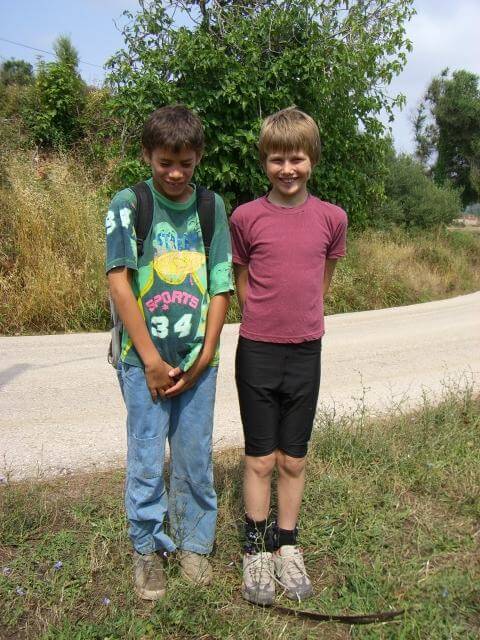 Professora Ana Paula always talked to me during the break – which was a great exercise in listening and understanding. It was simply because she likes to talk – that's a portuguese trait – and I was a more willing victim than the kids. She didn't get much response, because I still had to translate everything, and that takes time.
So I smiled and said a lot of "Sim, sim" because I didn't dare to use the typical portuguese filler word "pois" or "pronto" – that seemed to be kind of appropriation
For example, she told me that her son Diogo was such a good boy – that he immediately obeyed when she instructed him to put the just-finished book on the bookshelf first before starting another. At their home.
With us, everything was always lying around everywhere. How does she do that, I have often thought, but yes: a school teacher knows about parenting, of course.
… and the time we talked about a hero from national history (must have been Vasco da Gama or Fernando Pessoa)… I can still see her sitting on top of an empty table, wearing unusual mascara, very enthusiastically explaining that was a real hero, a real homem, superhomem!
I can still remember my (dearly beloved) first school teacher, and I hope that my boys will also go through life with these good memories of their dear first teacher Ana Paula!