Now, Henk is at home here. The first time he came here was in 2012, as a member of the volunteer team that renovated one of the holiday homes.
Great fun to do the necessary work with volunteers
I had reserved three quarters of 2013 for intensive renovation, but it had already been completed months before. In May already. What do you want, things go smoothly with a group of smart, healthy, strong and some even experienced professionals! One of them could even weld (and we have welding equipment) so even the railing of the balcony was realized.

Besides teaching people to jump out of a plane with a parachute, Henk can build bathrooms and install electricity. Very useful in this case. Martin (the one who could weld) and he got along just fine. Martin could do much more than weld. Among other things, making good jokes with Henk – perhaps the most important thing during a job like this.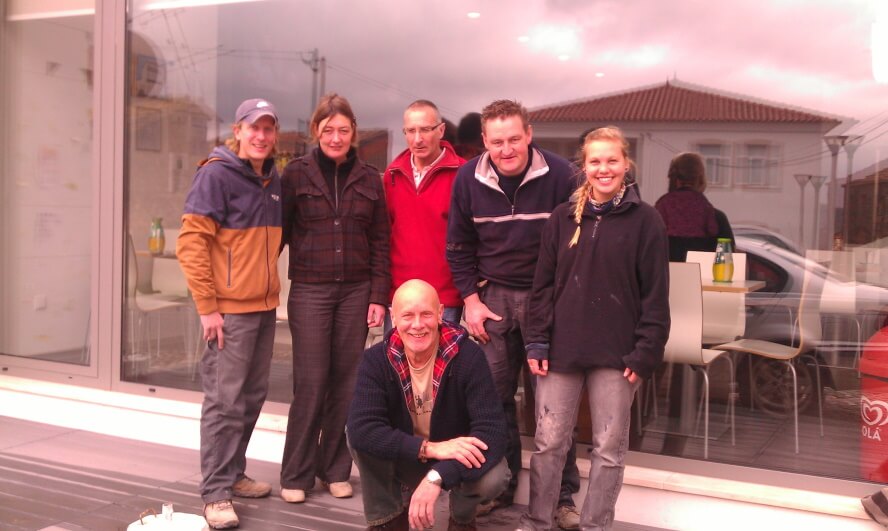 From that time on, Henk usually drops by in the wintertime with his camper. "Hello Ellen, how are you? I'll arrive on Thursday, okay?" Yes, sure that's good. Cheers!
Every year, wonderfully useful things happen when he's there. And always conversations about anything and everything – a lot about the state of the world, but also more personal things, and now of course the C-risis.
Due to the covid it took two years before Henk dropped by again with his camper.
It's like always, lot of talking, lot of laughing. What started voluntarily in 2013, has grown into friendship
And this time it's also rescue in an emergency, fortuity in an unfortunate situation.

The electrical infrastructure of the Casa Principal is no longer capable of meeting today's requirements. That was bad news, because even in Portugal it is difficult to find a good reliable electrician who also has the time in the short term to tackle such a job.

The first Sunday of January we were chatting in the sun, when I asked: "Well, Henk, I don't think you feel for it, but I'm going to ask anyway …" and to my great surprise and joy he wanted to do it: replace the entire infrastructure of that big house.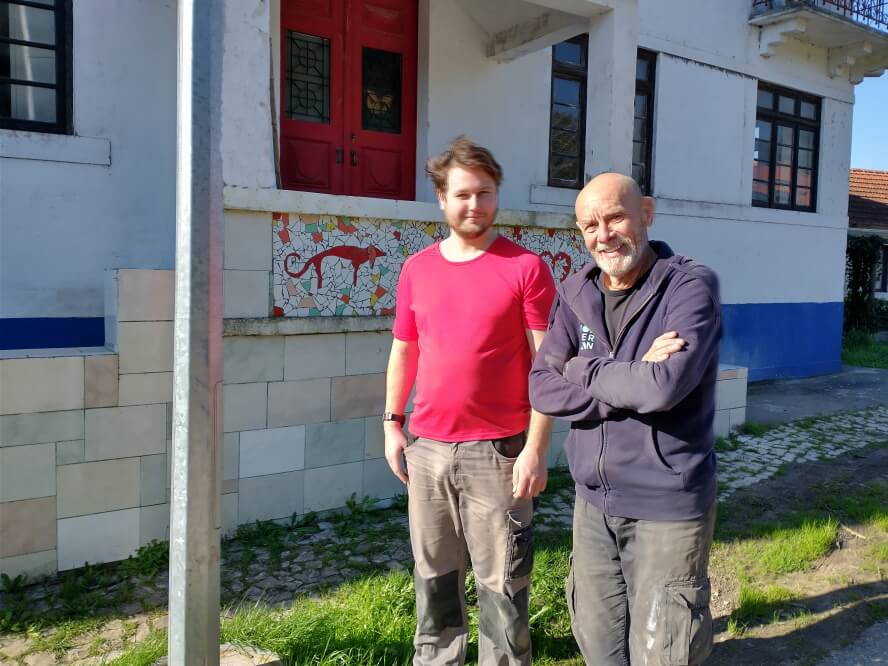 If the people live in it, you can't close it off, of course, so large parts of the piping and wiring have been replaced with new, thicker "unifilar" wire in today's common colors. Can't hurt, if you're dealing with a family that wants to plug things in without thinking.

There is now a German family who – like most modern people – have quite a lot of electrical requirements. As a normal family you quickly have 5 computers, laptops or tablets, an American fridge, a dishwasher, dryer, washing machine … and then the small stuff, with the lights on everywhere.

Son Broes is a good second man, who really enjoys being able to put his knowledge into practice, and even likes to put unruly wires in junction boxes in impossible positions.
So a blessing in disguise with a silver lining
The year started with the bad news of the electrical system's incapacity, but that quickly turned into the good news that it will be completely renewed in two weeks.
If this is what 2022 will be like, I don't mind!
We moved here in 2000 from Rotterdam, Holland to the Termas-da-Azenha, Portugal.
A big step, especially with two small children.
We are busy to rebuild one of portugals cultural heirlooms: Termas-da-Azenha, an old spa which has been turned into several holiday houses, rooms and a campsite.
You'll find mosaics and paintings everywhere.
Since 2018 we call ourselves the first B&B&B in the world – Bed & Breakfast & Bathrobes. You can buy a home-made unique bathrobe/housecoat with us.
Each week a little blog about what is happening around us. An easy read. A few minutes in another world. A little about what it going on in Portugal. If you plan your holiday to Portugal, it might be a nice preparation
You can subscribe to this blog- see at the right side of this page »
You'll get it every weekend in your mailbox.
On Sunday morning we publish it on our Facebook, on Instagram and on Pinterest.