It may have been a long time ago, but the ending of a dictatorship always deserves a celebration in my eyes until the eternity of eternities. If something says trouble, it's dictatorship. Always accompanied by uncertainty and mistrust. And those are annoying things that you do not necessarily have to look up, because you will encounter them during your life anyway. In whatever form or shape.
Today is April 25 – the day of the Carnation Revolution. Festa!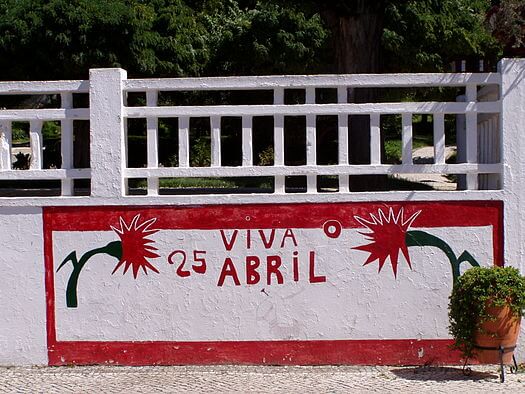 In 1974 it was over. Then the wonderful story of the flower girl in Lisbon happened, which ended the tension. With that, the dictatorship of Marcello Caetano, the successor of the infamous António Salazar, was over.
The go-ahead was given just after midnight, by broadcasting a song by singer Zeca Afonso: "Grândola, Vila Morena". "O Movimento dos Capitães" – the group of revolutionaries who planned and carried out the coup faced the government forces in Lisbon.
Although everyone had to stay indoors, there were a lot of people on the street. Flower sellers stood in the square. The tension was unbearable – two parties facing each other; when would the shooting begin? One flower girl took one of her red carnations and stuck it into the barrel of a soldier's rifle close to her. With that, the tension was broken, and the entire revolution was settled peacefully.
This is the romantic (highly simplified) version of the story of the Carnation Revolution
There are a lot of versions of how that Carnation ended up in the barrel of that gun, but I think this is a cute one. José – affectionately known as Zeca – Afonso is now about a saint. Rightly so, because he ran a lot of risk if things went wrong.
No one could have foreseen that it would go off without bloodshed. And when that happens, it is tears-in-your-eyes beautiful. Just like years later in Czechoslovakia. A square full of lighters in Prague. Very moving, and a great reason to celebrate!
Celebrating will probably not happen that much now
Corona throws a spanner in the works everywhere. Now the gratitude of not living under a dictatorship is not so much alive anymore among the Portuguese; too many generations have grown up in freedom, and have no idea what that is like. Perfect, let it be that way for ever!
But the Portuguese really love to party, and they can do that very well. A (small) square, a (small) band, dancing, good food (gastronomia), and lots of beer. Let 'm do their thing. Throughout Portugal, there are usually parties everywhere from this time of year, big or small, all through summer.
Fine, we'll adapt. Just like those people then, just like the capitães – we won't let it get us down!
Then we'll throw a party ourselves, at home, with some nice music.