Or at home – because son Broes is cooking a lot nowadays!
Everything is dragged from the garden into the kitchen – especially a lot of zucchini, of course, because somehow zucchini plants always do well. But the peas, beans, cucumbers, lettuce, pumpkin, corn, bell pepper, basil, dill and thyme also come in nice quantities.
He makes lettuce wraps, tuna burgers, stuffed peppers – not exactly typical Portuguese food, but really good!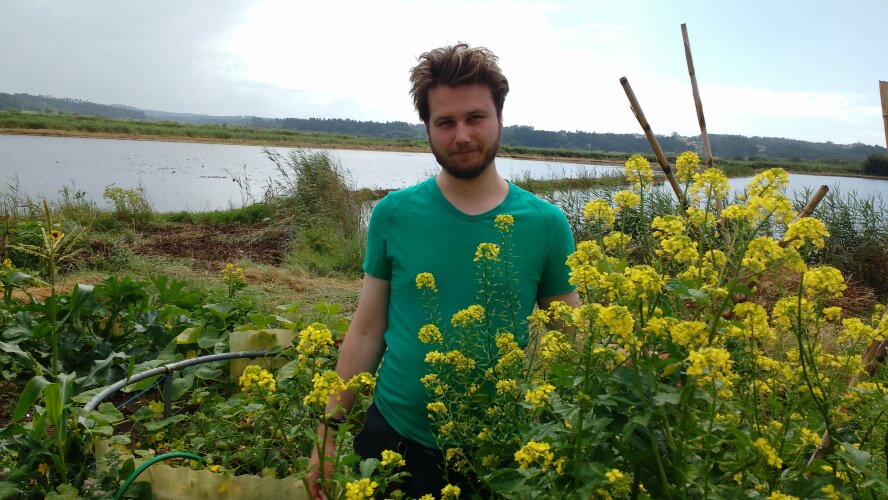 I especially liked the lettuce wraps. Bit the same idea as tortillas but edible. I don't know how you do with those, but on my plate the precooked pre-bent yellow crackers that you buy in a 6-pack in the supermarket always get soggy or everything breaks into pieces so that you really have to work for your food.
And no, I don't have a photo of that!
But I do have photos of last Sunday's BBQ. The girls organized that (if you pay attention, you know that "the girls" are the students doing an internship, and have discovered several new species of mammals here). They had cleverly persuaded a male person to roast the meat, because we women can all agree: that's a typical man-thing.
We are sexist here – sorry!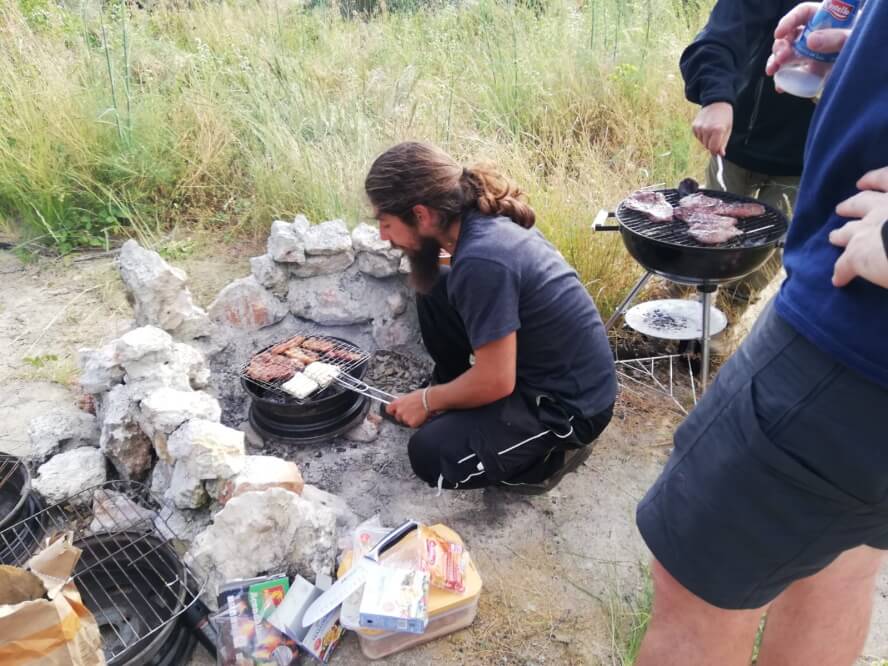 We regularly give away stuff from the garden, because that's what you do if you grow vegetables. Pumpkin and zucchini are abundant, and not so very popular, but everyone likes the physalis, and the peppers are also eagerly accepted.
"The English" are enthusiastic cooks as well. They have a blast with their new oven: "It has a rotisserie" – Stephanie said with her eyes direction heaven (to indicate that it is heavenly) but I didn't know what that was. I'm a bit stupid in terms of cooking.
The newly arrived guests, "the Brazilians" are clearly not
They get on very well with their neighbor Frank "the Southafrican". They eat together regularly. Frank has a very different rhythm from them, but is on the same level in terms of good food. He gets up around 4am every day to go to his new quinta and talk to his young fig trees in an uplifting way, while the Brazilians are just starting their second dream phase.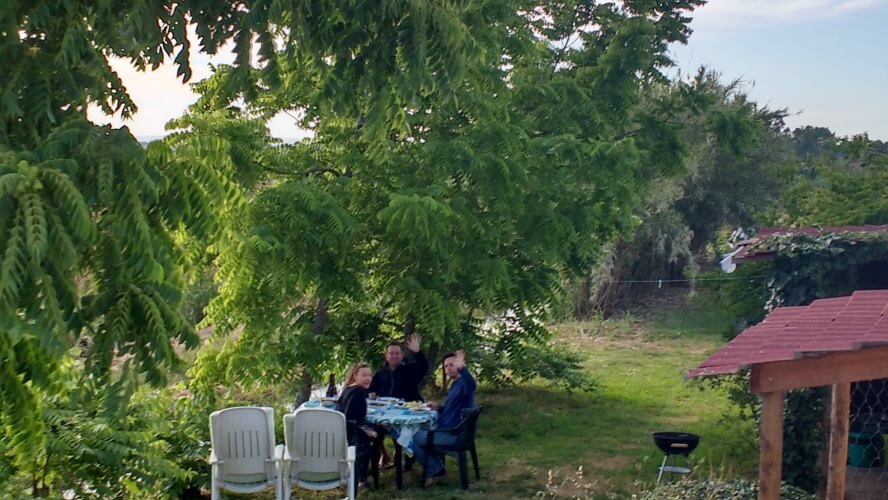 I have a dessert for you this week. Literally. A portuguese recipe for "Bolo de chocolate" – made with zucchini!
I did not know that you can also use zucchini for sweet, but after a tasting session I tell you: you can.
If you're on a diet, this is absolutely ideal!
Ingredients
120g (whole grain) self-raising flour * If you have regular whole wheat flour, add 2 tsp baking powder
100g (coconut blossom) sugar / brown sugar
100g apple sauce
2 eggs
1 large zucchini
100g (dark) chocolate
Method
1. Preheat the oven to 180 ° C & brush a (brownie) baking tin with some oil and if necessary put a baking sheet in it.
2. In a large bowl, mix the eggs, sugar, apple sauce & add the flour afterwards.
3. Peel and grate the zucchini and toss through the dough.
4. Chop the chocolate and put half of the mixture in the dough. Save the other half for the top.
5. Put the dough in the baking tin and spread evenly. Sprinkle with the remaining chopped chocolate.
6. Bake in the middle of the oven for 30 minutes (if you use a cake tin it may take a little longer. Prick with a fork to see if the dough is completely cooked).